Sideshow Theatre Company mounts Roland Schimmelpfennig's Idomeneus
The German playwright's refractory take on Greek myth opens the ambitious young theater's sixth season.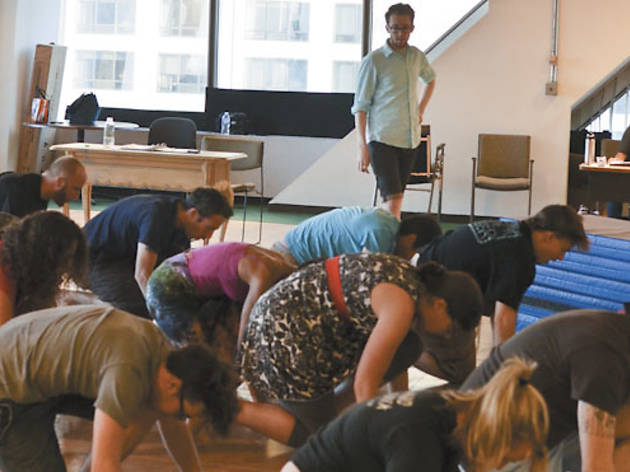 "It's kind of like choose-your-own-adventure theater," Jonathan L. Green says of Idomeneus, the latest project of Sideshow Theatre Company.
Green, Sideshow's artistic director, helms the U.S. premiere of the 2009 work by German playwright Roland Schimmelpfennig. In Greek mythology, Idomeneus was a king of Crete who appears in Homer's Iliad, fighting alongside Agamemnon in the Trojan War. In other writings, including those by 4th-century Roman author Maurus Servius Honoratus and 17th-century French scribe François Fénelon, Idomeneus goes on to kill his son as part of a bargain made with the gods. In Mozart's opera Idomeneo, the son is spared.
Schimmelpfennig's kaleidoscopic, choral take retells every variation. "It takes probably four or five different versions of the Idomeneus story…and it lets the story conflict [with] itself," Green says. "The script will get up to a crucial moment, we hear what happens when the story goes one way, and then it rewinds and we hear what happens when the story goes another way. The story keeps bifurcating in a really interesting way."
The script's structure, the director says, recalls Kirk Lynn's Cherrywood in that lines aren't allocated to specific performers; instead, they're assigned to groups like "Six People Who Need to Learn to Get Along with Each Other," "Four People Who Wish Everything Was Done Differently" or "A Man and a Woman, Both No Longer Young."
"At first it was kind of staggering in scope," Green says. "We did our first reading last summer, and of course all of my initial instincts about who should say what were absolutely wrong."
Green discovered the playwright's work last year when he attended a reading of another play by Schimmelpfennig as part of the International Voices Project, which stages concert versions of pieces by international writers in partnership with Chicago's consulates general and cultural institutions. Schimmelpfennig's The Golden Dragon was presented at the Goethe-Institut.
"I was just sort of electrified by his writing," Green says of Schimmelpfennig, who's much produced in Europe. Interested in pursuing a production for Sideshow, Green contacted the playwright's agent, who sent him Idomeneus. Months later, Green met Schimmelpfennig by chance on a trip to Washington, D.C., where that city's Studio Theatre was mounting The Golden Dragon's U.S. premiere.
"He says [Idomeneus is] one of his favorite things he's ever written, but no one wants to produce it because the cast is enormous," Green says. The play's cast size is variable but requires a minimum of seven, the director notes; Sideshow's production has 15 actors.
The piece seems to match the company's ambition. Since its founding five years ago by Green, 27, and a group of fellow young artists transplanted from Virginia, Sideshow has earned attention with impressively polished productions of challenging works like Heddatron, The Ugly One and the just-closed The Gacy Play; the coming season includes the Chicago premiere of Jason Grote's Maria/Stuart and a new play by Northwestern M.F.A. grad Carrie Barrett, The Burden of Not Having a Tail. The theater's also gained a following for its own sideshow, the tongue-in-cheek Chicago League of Lady Arm Wrestlers (CLLAW).
"For a company of our budget size, I think we spend more resources [than others] on the production side, because it's really important to us that the world of the play feel unique and complete," Green says. "That's something we try to cultivate, those moments of surprise that make you fall headfirst into the story."
Idomeneus previews Saturday 18 and opens Thursday 23 at the DCASE Storefront Theater.