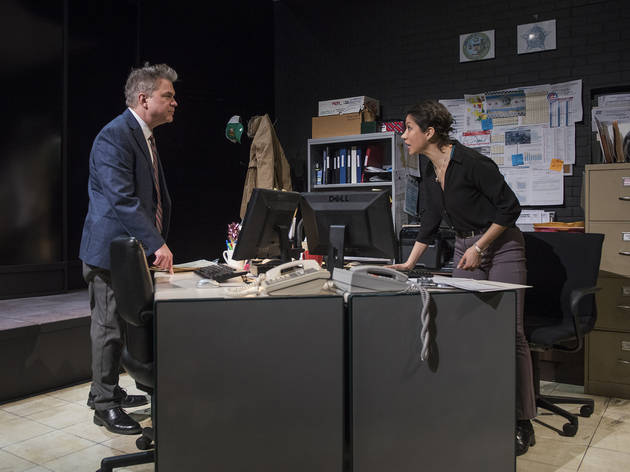 1/9
Photograph: Michael Brosilow
2/9
Photograph: Michael Brosilow
3/9
Photograph: Michael Brosilow
4/9
Photograph: Michael Brosilow
5/9
Photograph: Michael Brosilow
6/9
Photograph: Michael Brosilow
7/9
Photograph: Michael Brosilow
8/9
Photograph: Michael Brosilow
9/9
Photograph: Michael Brosilow
Keith Huff's newest cop drama has things to say, but can't crack its central mystery.
Two Chicago cops are tasked with closing out what appears to be a routine killing. A CTA worker is shot and killed on the tracks of the Western Brown line stop. His wallet is missing. The two witnesses who pulled him up to the platform before the train arrived both claim they heard shots but didn't see the shooter. It's tragic, random and entirely unsolvable.
But that's not the case, of course. A good detective story is never so straight forward. Anybody who's seen Law & Order knows that.
Six Corners, named after the intersection in Portage Park, is the final play in Keith Huff's loose Chicago cop trilogy that began with the wildly successful A Steady Rain at Chicago Dramatists in 2007 (it was later produced on Broadway with Hugh Jackman and Daniel Craig) and continued with 2011's The Detective's Wife at Writers Theatre. With these plays, Huff leans into genre tropes while also seeking to complicate them. He gives the people what they want and, in exchange, gives them something they need.
Six Corners succeeds at the latter much more than at the former. Its final twist, which won't be spoiled here, is a real K.O., a shot that lands much harder than anything in this weekend's Oscars favorite Three Billboards Outside Ebbing, Missouri, which treads similar ground. But the leadup to that climactic moment is far more uneven.
The two cops, Moroni (Peter DeFaria) and Perez (Monica Orozco),want to close the case quickly so they can get onto their night's real main event: the mutual affair they've decided to embark upon. When the murder victim's identity comes back, it further weakens their resolve.
Turns out that they know this man well. His name was BJ Lyles, and he was strongly suspected in the rape and murder of a little girl, Katie Yates, but was released after the police violated his civil rights. (Lyles is played by Byron Glenn Wells in a series of scenes set years earlier, which he shares with Lyric Sims, who plays Katie.)
But as Moroni and Perez start interviewing the two witnesses, Carter Hutch (Manny Buckley) and Amanda Brackett (Brenda Barrie), neither can help but miss the glaring signs that something's off. And that's where the play starts to run aground. These signs are so obvious to the audience that we feel a step or two ahead of the gumshoes all along.
The set, designed by Joe Schermoly, conjures a fittingly drab and imposing police station. Moroni and Perez's workstation is, as one would expect, a controlled explosion of papers, coffee cups and other bric-a-brac. A large wall of black tinted glass behind them slides back (with some trouble on opening night) to reveal a pair of interrogation rooms, where the playwright will engage in some timeline trickery.
Later in the play, once Moroni and Perez have retreated back to their office, Huff brings the issue of police violence and misconduct to the fore. An earlier argument over Perez's having covered for Moroni in the shooting of an unarmed young black man is reframed against the events that led to Lyles's release years back. But these scenes are undercut by director Gary Griffin, whose staging frequently confuses speed for drama. The moment barrels past as the production careens headlong towards its conclusion. It doesn't help that DeFaria and Orozco, who give fine performances otherwise, are unable to generate much sexual tension in the play's first half.
A more down-tempo, deliberate staging might have better handled the herky-jerkiness of Huff's scripting. It would give the performances more room to stretch and settle in, and it would allow for the mystery's beats to properly land before moving on to the next one.
The problem with mystery stories is they can feel immensely disposable. Once the real killer is revealed, the audience balls up the tale, tosses it over their shoulder and moves along. Yet Six Corners resists such easy discarding. Parts of what happens onstage here—the ending in particular—will stick with you long after you've left the theatre. In true detective antihero fashion, the play gets the job done even if its methods are questionable.
American Blues Theater at Stage 773. By Keith Huff. Directed by Gary Griffin. With Brenda Barrie, Manny Buckley, Peter DeFaria, Monica Orozco, Lyric Sims, Byron Glenn Wells. Running time: 1hr 30mins; no intermission.