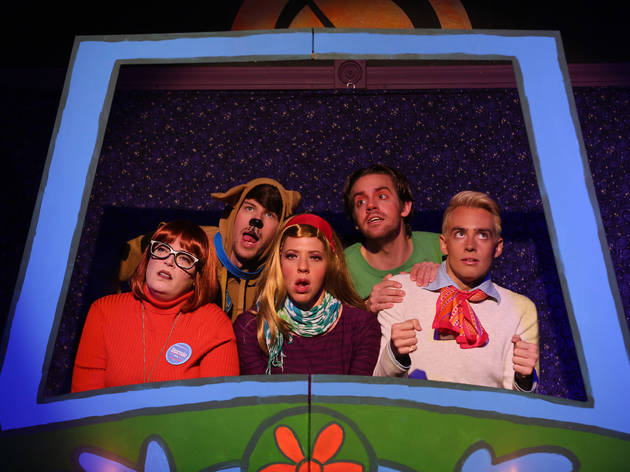 1/7
Photograph: Rick Aguilar Studios
Skooby Don't at Hell in a Handbag Productions
2/7
Photograph: Rick Aguilar Studios
Skooby Don't at Hell in a Handbag Productions
3/7
Photograph: Rick Aguilar Studios
Skooby Don't at Hell in a Handbag Productions
4/7
Photograph: Rick Aguilar Studios
Skooby Don't at Hell in a Handbag Productions
5/7
Photograph: Rick Aguilar Studios
Skooby Don't at Hell in a Handbag Productions
6/7
Photograph: Rick Aguilar Studios
Skooby Don't at Hell in a Handbag Productions
7/7
Photograph: Rick Aguilar Studios
Skooby Don't at Hell in a Handbag Productions
Like your uncle at Thanksgiving dinner, you'll wish this fun drag show would stop arguing about politics.
If you're going into the latest David Cerda joint from Hell in a Handbag Productions expecting a simple drag parody of Scooby Doo, be warned that you're getting something far more complicated—and frustrating.
Skooby Don't, directed by Derek Van Barham, begins with a familiar team of mystery solvers: Fredd (Will Kazda), Daffy (Elizabeth Lesinski), Velva (Caitlin Jackson), Scaggy (Josh Kemper) and of course their dog, Skooby (Christopher Wilson). After 50-plus years of driving around in the same old van, unmasking the same fake monsters in the same fake amusement parks, the gang needs a vacation—so they go and stay at the creepy old hotel run by Velva's aunt…who just so happens to be Cher (Ed Jones).
Their vacation is short-lived, though, because Cher has actually asked them there to solve yet another creepy mystery. Alongside fellow guests Caitlyn Jenner (Chazie Bly) and Kris Jenner (Cerda) and Cher's disgruntled bellboy/son Chaz (Caitlin Boho), Skooby and the gang set out to solve a mystery—wait, no, correction—they set out to argue a lot about political correctness, Bernie Sanders supporters and transgender issues.
Yeah, about that. Half of Skooby Don't—the half that's about Cher and the Kardashians and Scooby Doo—is a really fun time. But the other half—wherein the show tries to bury hashtag activism and trans identity politics under a mountain of shade—is not. Whether you agree with the show's politics or not (and there are many who won't), the fact is these parts of the play are just boring. They're like a long, tiresome, Facebook rant culminating in a reference to "young people's music" that's at least 10 years out of date.
It's a pity, because when Skooby Don't lets itself have fun, the show is smart, sharp and an honest to god delight. Jones' Cher especially is beyond reproach. Skooby Don't would do well to follow its own advice—to stop lecturing everyone else and just live its own truth.
Hell in a Handbag Productions at Mary's Attic. By David Cerda. Directed by Derek Van Barham. With ensemble cast. Running time: 1hr 40mins; one intermission.