Heads up! We're working hard to be accurate – but these are unusual times, so please always check before heading out.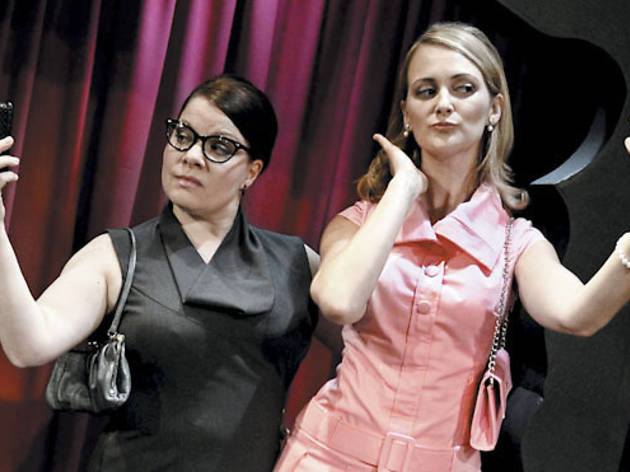 Smartphones: a pocket-size farce at Trap Door Theatre | Theater review
Emilio Williams's deft, of-the-moment comedy is worth tweeting about.
"You know what? We're not friends," says one of Emilio Williams's bratty, socially blinkered characters to another in a moment of anger. "On Facebook you are," says his obtuse wife by way of correction. The playwright traps two fatuous couples in an apartment where they wait for its owner, Fedé, to arrive, constantly checking their phones for texts, tweets or Facebook status updates on his progress. It's no spoiler to say he never shows up; the situation's similarity to both Waiting for Godot and No Exit is explicitly invoked.
Williams's "pocket-size" piece (it comes in at just over an hour) is so of-the-moment it'll be dated by December, but while it lasts it's nimbly amusing. The way Amelia (Géraldine Dulex), Barnaby (Chris Popio), Chantal (Jodi Kingsley) and Dagobert (Antonio Brunetti) would rather check their social networks than socialize is instantly, perhaps embarrassingly, recognizable, but Williams manages to take his play beyond the single note its title implies to encompass clever commentary on current affairs. (A bit about Chantal and Dagobert's outsourcing of their children is particularly biting.) Scenic designer Brian Sidney Bembridge and costumer Tonette Navarro enhance the absurdity by outfitting the decor and the denizens in precisely matched shades of pink and gray, while Williams and his deft cast tweak theatrical conventions and technological obsessions with joy and, indeed, smarts.