Sophocles: Seven Sicknesses at the Hypocrites | Theater review
Sean Graney stages a remarkably effective riff on Sophocles.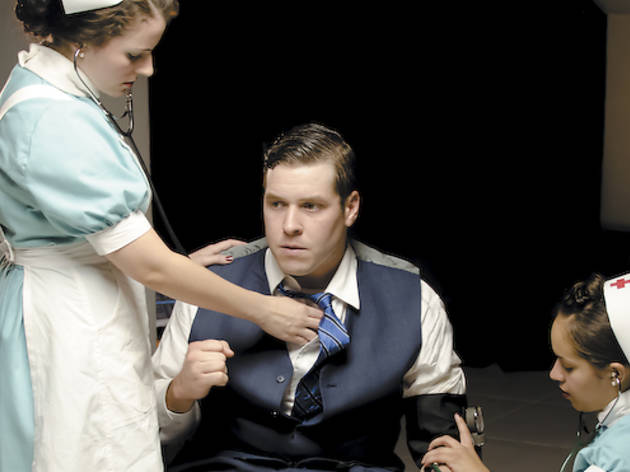 Sean Graney's been distilling and deconstructing classic texts for a decade and a half with the Hypocrites (and, more recently, with tonier outfits such as Chicago Shakespeare Theater, Court Theatre and the St. Louis Shakespeare Festival). His adaptational approach might be described as an indifference to language and context but with a consummate reverence for theme. That's certainly the case in his remarkably effective riff on Sophocles' seven surviving plays. In the opening playlet, Creon (Zeke Sulkes) asks Oedipus (Jeff Trainor), "Are you, like, banishing me?"
The setting, as indicated by Tom Burch and Maria DeFabo's alley layout in the Chopin's basement, is a sort of clinic, with a pair of nurses (Shannon Matesky and Sarah Jackson) serving as Greek chorus. They attempt to treat—or at least clean up after, or maybe just watch like a soap opera—the sicknesses of Graney's title: the plagues and curses in Sophocles' renderings of Theban tragedy and Trojan war, but also war itself, and the revenge, power, corruption and betrayals of trust that fuel it.
A phenomenal 12-person ensemble enacts Graney's mammoth, modern take (permeated by snippets of songs from Bruce Springsteen's 1980 lamentation The River, sung by the actors to new arrangements by Kevin O'Donnell). As the plays stack up during the nearly four-hour evening—some wryly humorous, others gut-wrenching, nearly all filled with gory bloodletting—we begin to sense a through-line. As went Sophocles' ancient Greeks, fueled by vengeance, vanity and misguided ideas of honor, so go nations today. At the play's end, with the stage riddled with the bodies of the needlessly dead, the more naive nurse asks, "Is that it?" "Nope," says the other. "There'll be more."