Heads up! We're working hard to be accurate – but these are unusual times, so please always check before heading out.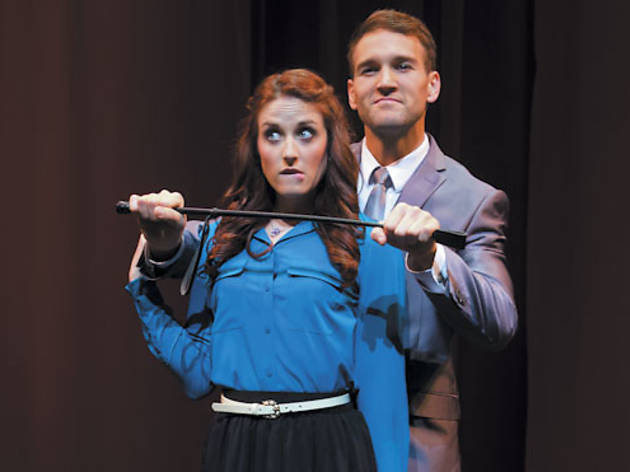 Spank! The Fifty Shades Parody at Royal George Theatre | Theater review
A musical parody of the racy Fifty Shades of Grey novels offers eye candy in its Christian Grey stand-in, but not much more bang for its buck.
Take the best-selling Fifty Shades of Grey trilogy penned by E.L. James, then add seven writers and a plethora of pop-culture references. The result is one mediocre musical parody. Presented under the Just for Laughs banner, Spank! would fall on the low end of the events if it were a part of the annual comedy festival. The jokes are lazy and obvious (suburban housewives love pinot grigio and hate their marriages!), and the musical elements even more so, with familiar tunes from Cabaret, The Pirates of Penzance and Willy Wonka & the Chocolate Factory receiving racy lyrical revisions.
Horny housewife E.B. Janet (Amanda Barker) escapes her domestic life by writing an erotic novel about a dim but beautiful young virgin (Michelle Vezilj) and the bondage-loving Adonis (Drew Moerlein) who steals her heart, then ties it up with rope. The production is at its strongest when Moerlein hits the stage for his Magic Mike–style stripteases; once the characters open their mouths, the play falls apart.
Considering its hefty ticket price, Spank! looks very cheap, with a set consisting of a wooden block and a big red curtain. The book's fans appeared to be having a good time on opening night, though that might've been the alcohol (one actor even commented on the crowd's drunkenness). For anyone unfamiliar with Fifty Shades of Grey, Spank! is a sadomasochistic experience in which the pain outweighs the pleasure.