Spirits to Enforce at Abraham Werewolf| Theater review
Mickle Maher sends a team of superheroes into Shakespeare's Tempest.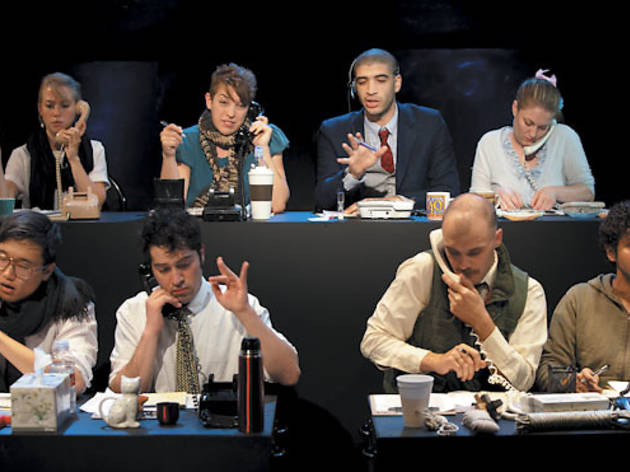 Mickle Maher's 2003 play (first produced by Theater Oobleck) is an ingenious sequel to William Shakespeare's The Tempest. Left behind on the island where they once served Prospero, Ariel the sprite and Caliban the monster have been waging a centuries-long battle between good and evil. To foil the various, nefarious plots of Caliban—now known as Professor Cannibal—Ariel has assembled a team of 12 unorthodox superheroes with names like Fragrance Fellow and Memory Lass.
When the play begins, Professor Cannibal has been captured at last and the Enforcers are devoting their energies to staging a production of their origin story—The Tempest. To raise money for the show, the heroes spend a good deal of their time fund-raising over the telephone. Maher's script is made up entirely of these increasingly desperate cold calls, which overlap and circle back on themselves. As in his other work, such as The Strangerer and The Hunchback Variations, Maher provides an original and multilayered take on his source material, exploring in this case themes relating to time and the ways we can become unrecognizable to ourselves.
Gus Menary's staging is stronger in its parts than in the whole. Seated at two rows of tables resembling a telethon phone bank, the cast (led by Blake M. Russell's seductive Ariel) can be funny, touching or panicked as circumstances merit. But the rhythms are off, and so the separate voices never quite come together to form a single, greater organism. It's less a symphony than an intriguing cacophony.