Star Witness at the House Theatre of Chicago | Theater review
Joe Meno's halting, confused Oz riff doesn't exactly take us over the rainbow.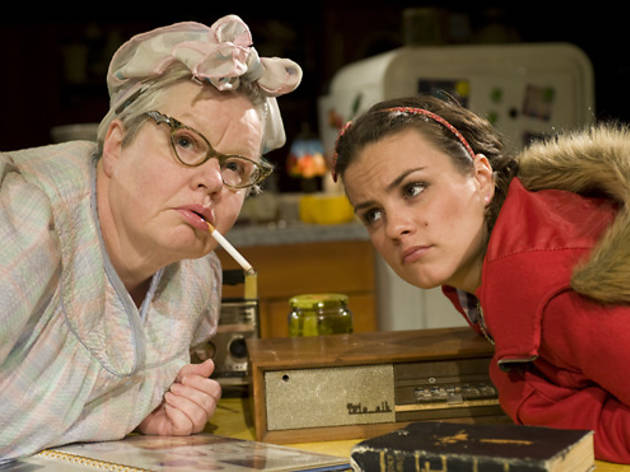 According to the House's press notes, Meno considers his new play "a riff on The Wizard of Oz." But it's not a riff in the manner of the House's classic The Great and Terrible Wizard of Oz, a refracted retelling of the actual story. No, you have to look much harder at Star Witness for tips that would merit calling in the Baum squad: a sung snippet of "Over the Rainbow" here, a pair of red cowboy boots there.
Meno's tale is set in a small town in downstate Illinois, where we learn a JonBenet-like young pageant girl has just gone missing. We hear most of this develop over the police scanner that's obsessively monitored by retired kindergarten teacher and armchair detective Hazel (Redmon). Hazel's housemate is 19-year-old diner waitress Shelley (De Giulio), who's lived with Hazel since her mom split a decade earlier, and who's desperately in search of some confirmation of good in the world.
I'll cop to not having read Chicago favorite Meno's fiction, but this is the third of his plays that I've seen, and I wonder if the Columbia College faculty member's much-praised formal experiments in prose simply don't translate well to stage. Like The Boy Detective Fails and Office Girl before it, Witness feels aimless and unfocused, its dialogue imprecise and its tone remarkably unbalanced.
The first act, which takes place in Hazel's kitchen, is packed with clumsy exposition; Redmon's cartoonishly fiery portrayal takes up enough oxygen to make it unclear which of the women is our protagonist. That's cleared up (sort of) when Shelley, our quasi-Dorothy, sets out on her bike in the much shorter second act, in search of the missing girl or her ghost or something; she encounters three characters who bear striking resemblances to others we saw in Act I.
The imbalance (imagine if the black-and-white Kansas scenes of the MGM film were twice as long as the Technicolor Oz sequence) feels as if it's thrown off even Graney and his appealing cast. Consciously or not, the director seems to have suppressed his normal affinity for the outré in the first act; I was a bit relieved to see Graney coming through in the second. (His use of the space, staging Act I in the Chopin's basement lounge and Act II in the theater proper, is quite clever.) De Giulio and the cast's men make an admirable effort, but Meno's wrap-up feels so glib and rushed that, well, it's as if there's no magic behind the curtain.