Steppenwolf's Garage Rep
Now in its fourth year, Steppenwolf's incubator program emphasizes mentorship and collaboration.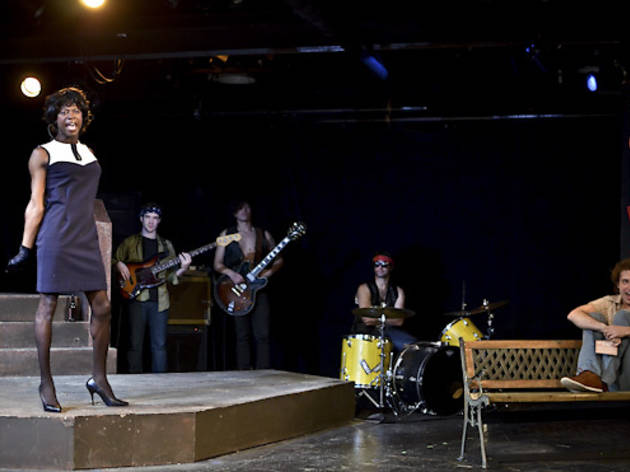 Steppenwolf Theatre Company has long offered its spaces—and thus a measure of its prestige—to younger theaters. In years past, Steppenwolf slotted troupes like the House, the Hypocrites and 500 Clown under the umbrella of the Visiting Companies Initiative.
In 2010, Steppenwolf consolidated that initiative into a ten-week repertory for three companies in the Steppenwolf Garage. "First and foremost, it really honors Steppenwolf's tradition," producer Jacob Padrón says of the Garage Rep, now in its fourth year. "We started as a storefront—you know, the church basement—so it feels really right that we can circle back and provide mentorship to emerging companies."
Padrón, who took over the program after joining Steppenwolf's staff as associate producer in 2011, arrived in Chicago from the Oregon Shakespeare Festival, which annually performs a dozen shows in repertory. He believes the rep model relieves some of the pressure on young companies entering a high-profile space. "A lot of these companies aren't able to maintain a really long run," he says. "To be the only jam in that space for six weeks for a small company can be really hard to sustain. If they're sharing it with other companies, it can be more manageable, and it allows word of mouth to build."
The application process begins each spring with an informational meeting between interested parties and members of Steppenwolf's artistic staff; Garage Rep alumni—such as Dog & Pony Theatre Company, Strange Tree Group, Sideshow Theatre Company and Pavement Group—share their experiences. A committee led by Padrón narrows down the proposals to six finalists who then pitch their projects in person.
This year's group—Theatre Seven of Chicago, Bailiwick Chicago and Buzz22 Chicago—met weekly in the fall with Padrón and associate production manager Dixie Uffelman, as well as Steppenwolf marketing and PR staff. "The collaboration was really all of us sitting at the same table," says Cassy Sanders, who's directing Christina Anderson's BlackTop Sky for Theatre Seven. "We're three different pools of theater folk, coming together with all of our resources."
"Dixie and Jacob have been incredible mentors," says Buzz22's Scott Weinstein, who's mounting Qui Nguyen's role-playing fantasy She Kills Monsters. "It's been a really cool process to watch Steppenwolf overseeing this and working with the other companies."
"We can cross-pollinate really well," adds Bailiwick Chicago artistic director Lili-Anne Brown, who's helming Garage Rep's first musical, Michael John LaChiusa's See What I Wanna See. Getting to peek behind the curtain at an institution like Steppenwolf has been eye-opening, Brown says: "You think you're going to find out the mystical sorcery. Instead, you find out they're people just like you, trying to make theater and working really hard at their jobs every day. There is no mystical sorcery. For me, that helps me know that what they're doing is achievable if I work hard enough."
As this year's Garage Rep opens, the breakout hit of 2012's slate—Ike Holter's Stonewall story Hit the Wall, produced by the Inconvenience—is about to open in a new production Off Broadway. "The Garage experience was great because the Inconvenience was able to keep everything we'd been working towards—our audience, our style—but at the same time, we had Jacob giving us ideas about marketing and [producer] Rebecca Rugg giving real talk on script and direction," Holter says. "It truly felt like a 50-50 collaboration between a tiny storefront and a ginormous regional theater."
"That sense of collaboration, of essentially being inspired by each other," Padrón says, "that feels really galvanizing."
The fourth annual Garage Rep runs Friday 15 through April 21.