Stones in His Pockets at Northlight Theatre | Theater review
Two actors fill 15 roles in Marie Jones's Irish lark, sunk by a lack of precision and clarity in Northlight's production.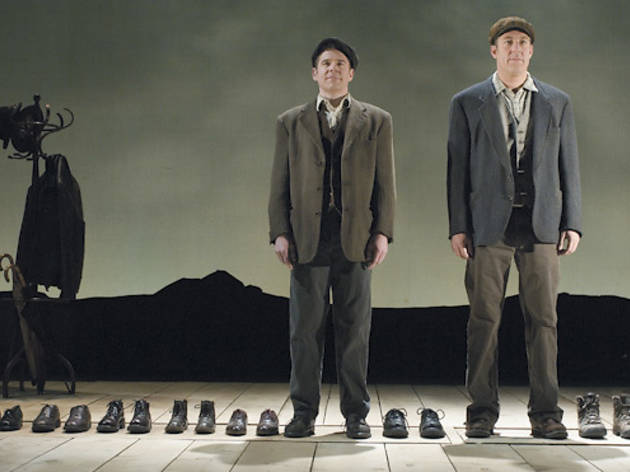 The setup for Marie Jones's 1999 work is promising: Jake (David Ivers) and Charlie (Brian Vaughn) are extras for a Hollywood movie filmed in an Irish village. The two actors play the entire village and the film crew using only their bodies and the most basic production elements. Jones's script offers a great deal of freedom in its staging, but its success depends on clearly establishing the rules of its world. Otherwise, the play becomes a bombardment of sketches with stereotypes we neither know nor care about. Northlight's production, an import from the Utah Shakespeare Festival, lacks clarity and consistency, losing the story in the process.
Ivers and Vaughn differentiate their characters by too often going for ease over nuance. As American leading lady Caroline Giovanni, Vaughn borders on sophomoric, relying on a tilted wrist and a valley-girl voice while avoiding the underlying humanity that would make her compelling. And the transitions between characters feel muddled, which is especially problematic in the first act when we're still getting a feel for how everything works. The play picks up in the second half, when lighting and sound help clarify the shifts, and the main story finally reveals itself. Modest gains in the final stretch, however, fail to redeem the general disorder and lack of depth.