Superior Donuts at Mary-Arrchie Theatre Company | Theater review
Mary-Arrchie brews up a new production of Tracy Letts's 2008 comedy.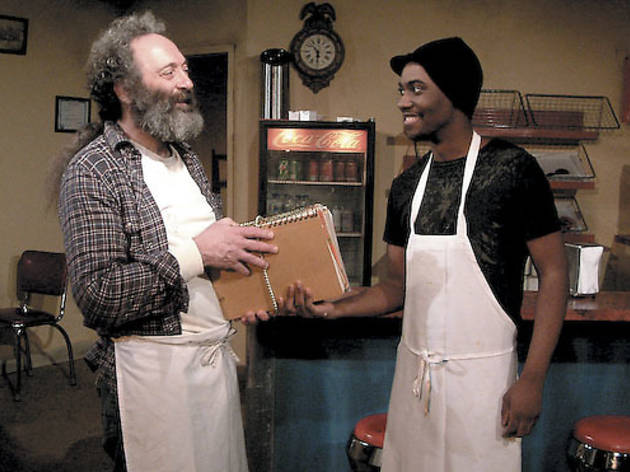 Tracy Letts's Chicago-set comedy first appeared at Steppenwolf in 2008, where it was assigned the unfair task of following his August: Osage County. Seeing it again four years later in a downscaled production at Mary-Arrchie allows us to reexamine it independent of those impossibly high expectations; on its own merits, Superior Donuts handily accomplishes what it sets out to do.
Aging hippie Arthur Przybyszewski (Richard Cotovsky) has been sleepwalking through life for decades. The Jefferson Park–born son of Polish immigrants, Arthur has halfheartedly run his late father's Uptown doughnut shop for some years. Both the shop and its proprietor are in stasis amid a changing world; Superior Donuts is losing ground to the new Starbucks across the street, a sign of neighborhood gentrification, while Arthur hides out, smoking weed and fearing change. That change arrives in the form of Franco Wicks (Preston Tate Jr.), a bright young black kid who talks his way into a job as Arthur's clerk. Franco has big ideas about revitalizing the shop; he also has trouble on his tail.
With smart plotting, Letts deftly turns what may look like stale character types into fresh baked goods. Shuffling and disheveled, Cotovsky's well suited to the good-hearted guy who's given up on possibility. Tate, despite his tendency to swallow his words, brings a natural spark and wit to Franco. As two of the shop's few patrons, Millie Hurley and Susan Monts-Bologna offer standout support.