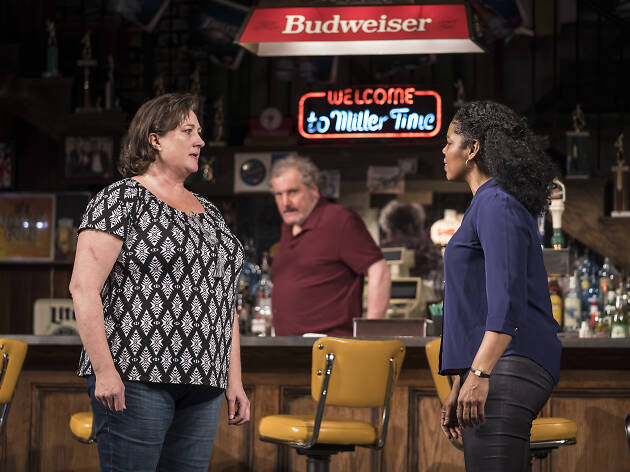 Time Out says
Theater review by Alex Huntsberger
"That's how it oughta be": Those are the final words—half punchline, half plea—of Lynn Nottage's Sweat, and the Goodman Theatre's production does them devastating justice. Set in Reading, Pennsylvania, Nottage's 2015 drama is a portrait of blue-collar collapse and an inquiry into the cold-blooded murder of the American Dream. Chief among the many culprits is a capitalist system that treats workers like disposable parts. But when those workers don't stand together, they look for easier targets to blame—including, usually, people who don't look like them.
Sweat is no ordinary spelunking expedition into Trump country. For one thing, it understands that "blue collar" and "white skin" are not synonymous. Unfolding mostly in a working-class bar in the year 2000—Kevin Depinet's looming set suggests a honky-tonk mausoleum—the play revolves around two pairs of mothers and sons: one white, one black, both doomed. The exceptional Kirsten Fitzgerald and Tyla Abercrumbie play Tracey and Cynthia, respectively, a pair of card-carrying Union steelworkers. When African-American Cynthia gets promoted to management, Tracey's hurt pride curdles into resentment; she starts saying that Cynthia got the job because of her race—and that's before rumors of layoffs start circulating. Their sons, Jason (Mike Cherry) and Chris (Edgar Sanchez), are well-meaning knuckleheads and best friends. But in a series of scenes set in 2008, including the play's opening vignette, we see them as ex-convicts fresh out of prison. What put them there is the show's big mystery.
Director Ron OJ Parson has always been a superb orchestrator of actors, and Sweat is a symphony. Chaon Cross and André Teamer offer haunting portrayals of addiction as local barflies, and Keith Kupferer brings a lifetime of world-weary grace to his role as the joint's bartender. Steve Casillas plays Latino barback Oscar with quiet, desperate determination, and Ronald Conner's parole officer is a man whose innate decency comes clad in an iron fist.
Nottage's script, which won the 2017 Pulitzer Prize for Drama, has empathy on tap but doesn't water it down with cheap sympathy. Nottage has done her research and it shows—sometimes a little too well, as when details of union-busting tactics threaten to drag down the storytelling. But when the play is at its best, which is most of the time, it's like a Greek tragedy whose gods have been replaced by unseen corporate moguls. This may not be how things oughta be, but it's a bracing study of how things are.
Goodman Theatre. By Lynn Nottage. Directed by Ron OJ Parson. With ensemble cast. Running time: 2hrs 30mins. One intermission.
Details
Users say