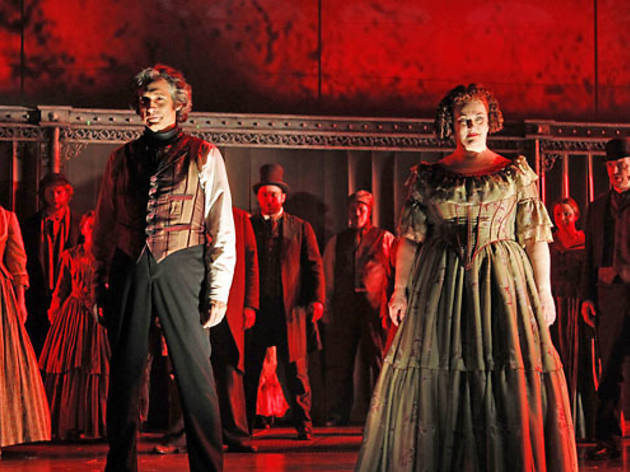 1/9
Photograph: Brett Beiner
Sweeney Todd at Drury Lane Theatre Oakbrook Terrace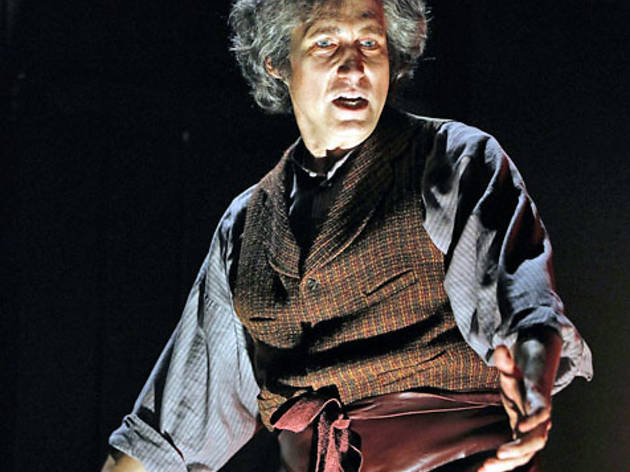 2/9
Photograph: Brett Beiner
Gregg Edelman in Sweeney Todd at Drury Lane Theatre Oakbrook Terrace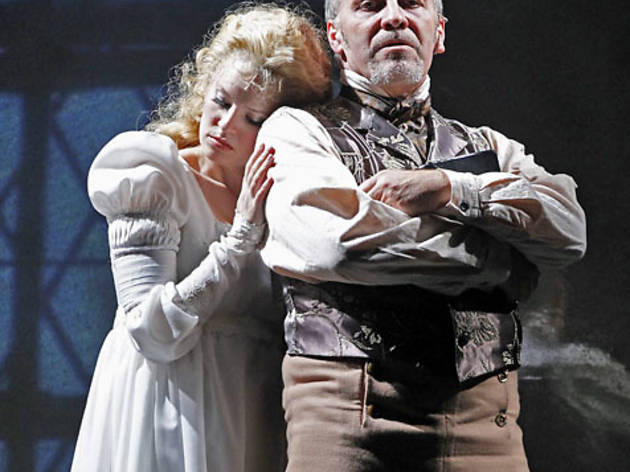 3/9
Photograph: Brett Beiner
Emily Rohm and Kevin Gudahl in Sweeney Todd at Drury Lane Theatre Oakbrook Terrace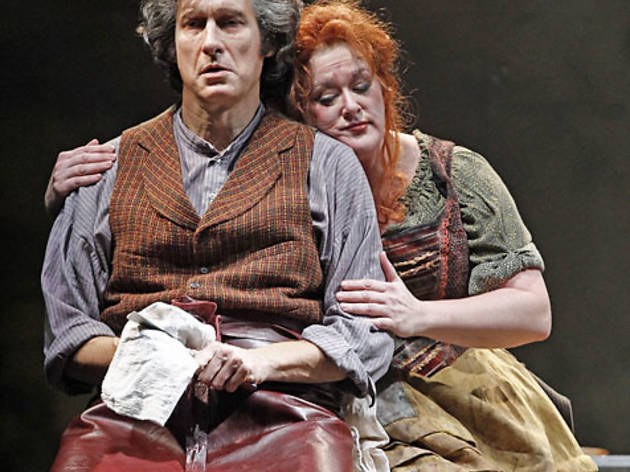 4/9
Photograph: Brett Beiner
Gregg Edelman and Liz McCartney in Sweeney Todd at Drury Lane Theatre Oakbrook Terrace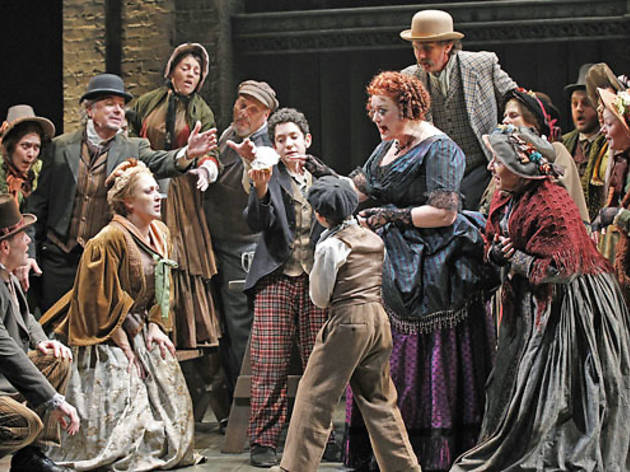 5/9
Photograph: Brett Beiner
Sweeney Todd at Drury Lane Theatre Oakbrook Terrace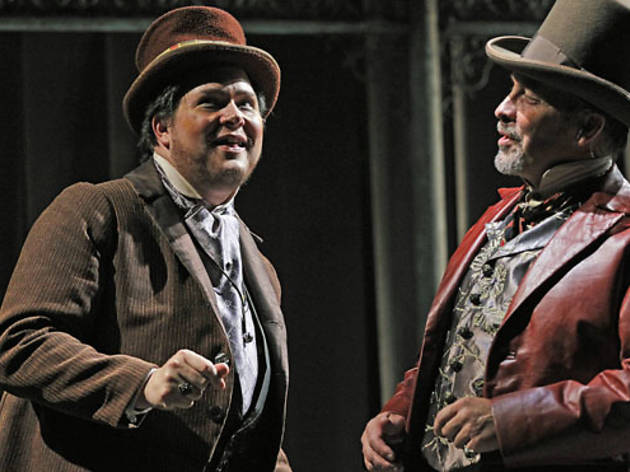 6/9
Photograph: Brett Beiner
George Andrew Wolff and Kevin Gudahl in Sweeney Todd at Drury Lane Theatre Oakbrook Terrace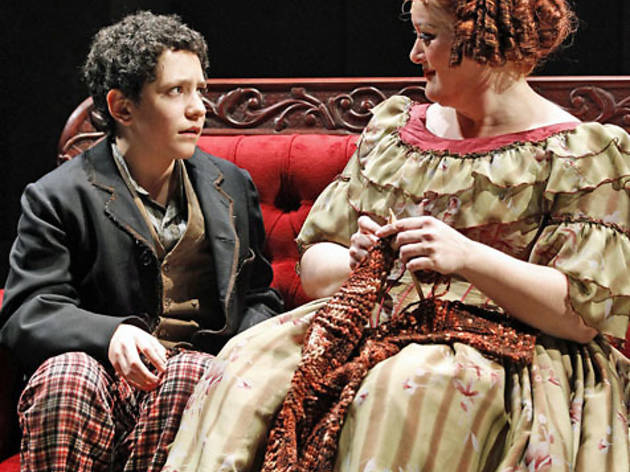 7/9
Photograph: Brett Beiner
Jonah Rawitz and Liz McCartney in Sweeney Todd at Drury Lane Theatre Oakbrook Terrace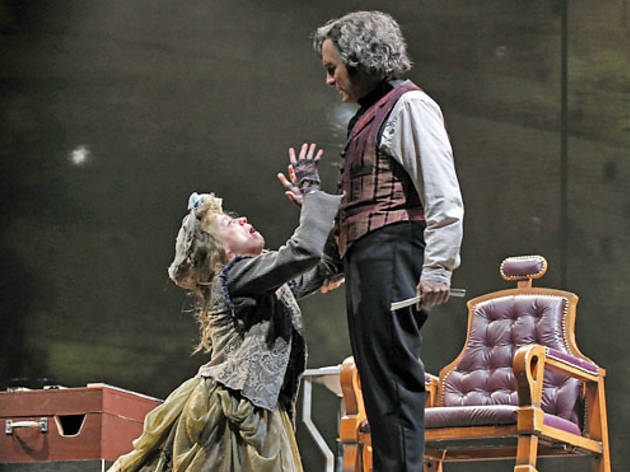 8/9
Photograph: Brett Beiner
Heidi Kettenring and Gregg Edelman in Sweeney Todd at Drury Lane Theatre Oakbrook Terrace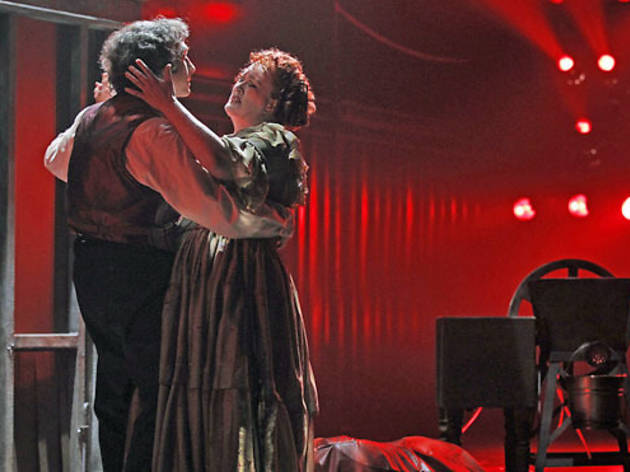 9/9
Photograph: Brett Beiner
Gregg Edelman and Liz McCartney in Sweeney Todd at Drury Lane Theatre Oakbrook Terrace
Sweeney Todd at Drury Lane Theatre Oakbrook Terrace | Theater review
Rachel Rockwell's sleek production of Sondheim and Wheeler's masterpiece overcomes its few flaws—including a miscast Sweeney.
Toward the end of Sweeney Todd's first act, the titular barber cheerfully whistles as he prepares to slit the throat of the wicked Judge Turpin (Kevin Gudahl). "You're in a merry mood today, Mr. Todd," Turpin says. His remark coincidentally comments on the strangely calm characterization of Gregg Edelman's Sweeney, a choice that lessens the intensity of Rachel Rockwell's otherwise stunning production of Stephen Sondheim's musical classic.
Edelman is a talented performer, but he's miscast as Sweeney Todd, lacking the internal inferno needed to make the character's horrific actions convincing. There's a lightness to Edelman that fails to capture the crushing weight of Sweeney's exile and the loss of his family, and when he trades the burden of his past for a murderous future, Sweeney doesn't come across as enough of a threat.
When sharing scenes with Liz McCartney's robust, fully realized Mrs. Lovett, Edelman fades into the background. Hopelessly, psychopathically romantic, Mrs. Lovett will do anything to earn the love of her demonic partner, and McCartney's uncanny ability to switch gears from gentle sincerity to brash ferocity gives the character an emotional dimensionality that Sweeney lacks.
As young lovers Anthony and Johanna, William Travis Taylor and Emily Rohm give remarkable performances; their chemistry is amplified by the technical prowess and emotional depth of their consecutive Act I solos. While Rockwell's choice to cast 13-year-old Jonah Rawitz as street urchin Toby strengthens Mrs. Lovett's motherly relationship with the character, the developments of the second act prove a challenge for the young actor.
Rockwell's streamlined staging puts the focus on the complex score, with a sparse set that allows the music to create the setting. From the chilling organ notes that open the show to the final "Fleet Street" pause, Sondheim's score is exquisitely played and sung, and the overall quality of the production overshadows its few flaws.