Tamberla Perry in David Mamet's Race
The rising actor makes her Goodman Theatre debut in Mamet's provocative potboiler.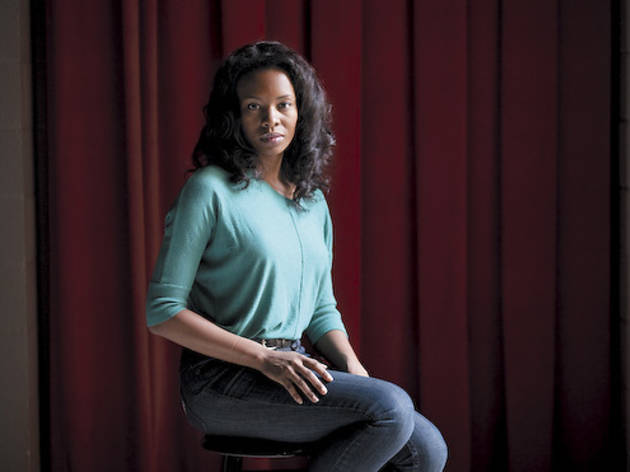 In a Goodman Theatre rehearsal room, Tamberla Perry is stuck. The actor can't wrap her head around a piece of blocking in which she goes to a desk and retrieves a manila folder, and the simple action turns into a small roadblock as Perry, costar Marc Grapey and Race director Chuck Smith try to find the motivation behind the movement.
This comprehensive attention to detail, combined with an athlete's body and a rich, resonant voice, has made Perry one of the city's fastest rising talents, a development that continues to surprise her. "I don't know how I'm at the Goodman or Steppenwolf or Victory Gardens," Perry says during a rehearsal break. "I snuck and took one acting class in school, and I did the 'You told Harpo to beat me?' monologue from The Color Purple. And that's the monologue I took into auditions. You never do that monologue!"
While growing up in Chicago, Perry chose sports over the arts, playing competitive volleyball, basketball and track until a torn ACL pushed her in the direction of physical therapy. After receiving her B.A. in Health and Society from the University of Rochester in New York, Perry returned to Chicago, where she found herself disinterested in her previous career path and began to pursue acting.
"I'm not knocking going to school, but I think what drove me to go further was that nothing inhibited me, because I didn't know," Perry says. "Going into it I was like, 'Oh, I can just say I forgot my headshot and I'll be okay.' It's not okay! But I did it for about a year. When I first started, I was taking a cover letter to auditions. That's how bad it was."
By performing in storefront productions and student films for Columbia College, Perry caught the attention of the city's larger theaters. Signing with an agency led to a rush of voiceover and commercial work, as well as the job for which Perry may be most recognizable: pulling lottery balls three nights a week for WGN.
Continuing a recent streak of Chicago premieres that includes Steppenwolf's Brother/Sister Plays, Northlight's Eclipsed and Victory Gardens' In the Next Room or the vibrator play, Perry stars in David Mamet's Race as Susan, a new hire at a law firm working on a controversial rape case. When asked about the most challenging aspect of Mamet's play, Perry needs no time to ponder the question. "This fucking language, man," she says. "It's so quick. There's a lot of ellipses and periods that are just placed between two words. But and the can have a period between them, and that's your sentence." The actor's work lies in filling those ellipses. "Specifically for my character, it's finding what side of the fence she's on. I know what side I've chosen for you, but it's really up to the audience to decide."
Smith says Perry's managed to create a fully realized character because of her admirable willingness to express any uncertainty in rehearsal. "She's been able to put together a complete scenario of the character by asking the right questions," Smith says. "When I see this character onstage now, I know exactly where she's coming from."
Without extensive academic training, Perry often turns to her industry friends for coaching and advice. She also takes advantage of the DePaul conservatory experience of her husband, fellow actor Kevin Douglas. But the place where she learns the most is the rehearsal room. "Every project that I do, I take it as a class," Perry says. "You could say I'm in class every day, learning on the job."
Race begins previews Saturday 14 and opens January 23.
Sign up for Time Out Chicago's Unscripted e-mail newsletter to get our editors' top picks in theater, dance and comedy plus interviews, reviews and more in your inbox every Tuesday.