Ten Chimneys at Northlight Theatre | Theater review
Jeffrey Hatcher's dramedy puts a Chekhovian spin on the Lunt-Fontanne set.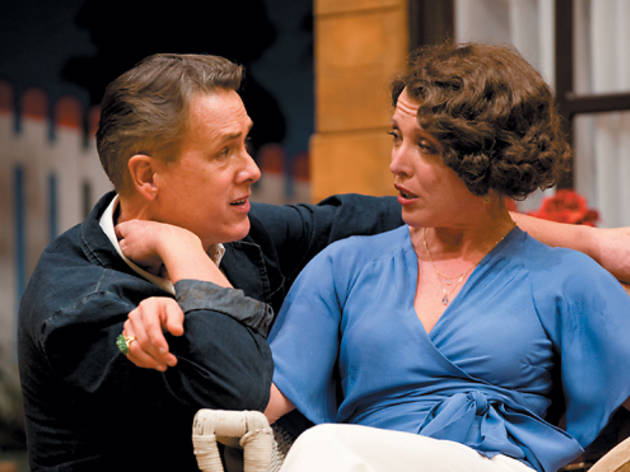 While teaching a young Uta Hagen (Sara Griffin) how to map a character's journey in makeup, Lynn Fontanne (Lia Mortensen) tells her, "Whenever we are talking about the theater, we are talking about love." Jeffrey Hatcher's 2011 historical dramedy captures its characters' adoration for the theater, but their relationships with each other need more definition.
Set on the Wisconsin estate of Alfred Lunt (V Craig Heidenreich) and Lynn Fontanne in the years before and after World War II, Ten Chimneys delves into the personal drama of the Broadway power couple. A tepid love triangle develops among Alfred, Lynn and Uta while rehearsing Chekhov's The Seagull, but there's little physical chemistry between Griffin and the paternal Heidenreich. Rather, Alfred's affections are focused on an old college roommate who's back in town yet never appears; Hatcher rushes through this subplot, with most of the action inexplicably occurring offstage.
BJ Jones's direction emphasizes the grand personalities of the Broadway legends. The passion of Alfred and Lynn's marriage exists in performance, and Heidenreich and Mortensen blossom when playing with the duo's signature comic repartee. It's easy to see how diva Lynn would be threatened by Griffin's quietly confident Uta, yet the strongest moments between the women are devoid of malice. As Alfred's half-siblings, Janet Ulrich Brooks and Lance Baker fulfill the servant roles on the Chekhovian estate, providing a down-to-earth perspective on the celebrity drama.