The 13th of Paris at LiveWire Chicago Theatre | Theater review
A young man's idealized vision of his grandparents' grand romance gets in the way of his own relationship in Mat Smart's inquiry into love.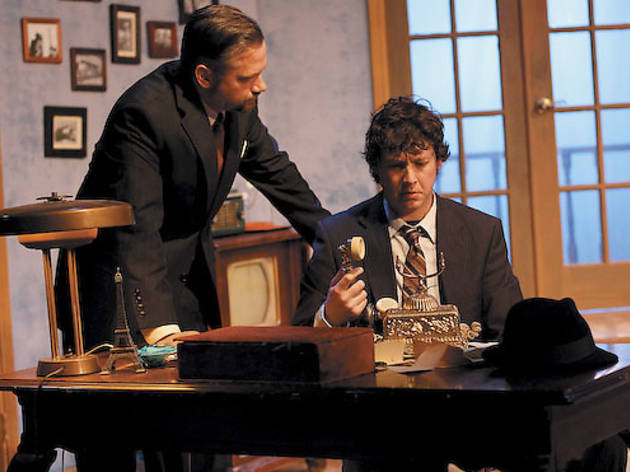 What is love? With apologies to Haddaway and the Roxbury guys (and my apologies to you for putting the song in your head), that's the driving question behind Smart's 2008 trinket. In a moment of uncertainty about his relationship with Annie, his girlfriend of three years, Vincent (Ewing) impulsively hops a flight from Chicago to Paris, where his grandparents lived and loved. Vincent never knew them—we learn they died mysteriously 40 years ago tomorrow—but he has the keys to the apartment they shared and a suitcase full of passionate love letters from his grandfather to his grandmother, full of florid sentiments such as "My love for you has somehow deepened since breakfast this morning."
Compared to that kind of ardor, Vincent convinces himself, his easy relationship with Annie doesn't measure up. So here he is in Par-ee, in search of…well, he seems as uncertain about that as we are. What he finds is his mind's-eye manifestation of his dapper grandfather Jacques (McLean), who scolds his grandson for not being more demonstrative. Vincent also meets up with Annie's old friend Jessica and her husband, William (amusing turns from Krista Krauss and Max Lesser), who demonstrate there's such a thing as too demonstrative.
Smart has some finely tuned observations about modern love and letting the perfect become the enemy of the good, but his plotting meanders a bit. Wilson's production finds admirable focus, though, and Ewing's massive reserves of charm help gloss over the fact that our hero's kind of a callow nitwit.