The American Plan at the Artistic Home | Theater review
Nick Horst dazzles in Richard Greenberg's complex Catskills tale.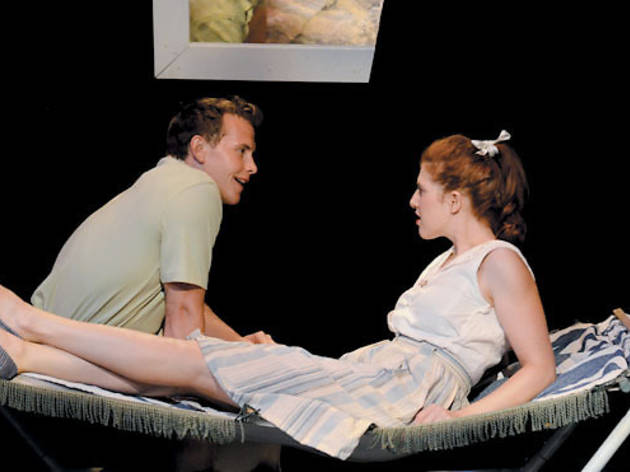 It's summer in the Catskills, and business as usual in 1959: Nothing is as it seems, conventional morality is cracking, and everyone is on the brink of madness. Fragile, irresistible Lili (Margaret Katch) lives in New York with her mother, Eva (Kathy Scambiatterra), a despotic German refugee, with summer respites upstate; the reticent Olivia (Tonya Simmons) works as the family's retainer. The arrival of Nick (Nick Horst), a handsome boy from the hotel on the other side of the lake, scrambles the dynamic, as does the surprise appearance of Gil (Tim Musachio), a friend from Nick's past.
Director Robin Witt executes this witty and moving play—marred only by a too-muted ending—with tender subtlety. Both Witt and playwright Richard Greenberg, who wrote The American Plan in 1990, filter the action through the sweetness of the 1950s' self-presentation and the shock of hindsight about the realities of race, class and sexuality. Fragmented mirrors frame the stage and both reflect and hide the actors' faces, prolonging and deepening already complex dynamics. Katch captivates the room, but shows her manic Natalie Wood cards too readily; Simmons, in contrast, is memorable for her restraint. When Nick and Eva clash, meanwhile, it's a sonic boom. Horst has gorgeous range and can render an audience spellbound with a monologue; he's the kind of focused, capable actor around whom you could build a company.