The Argument at Interrobang Theatre Project | Theater review
A young woman tries to give her dead sister the life she never had in Gregory Moss's sweetly morbid one-act.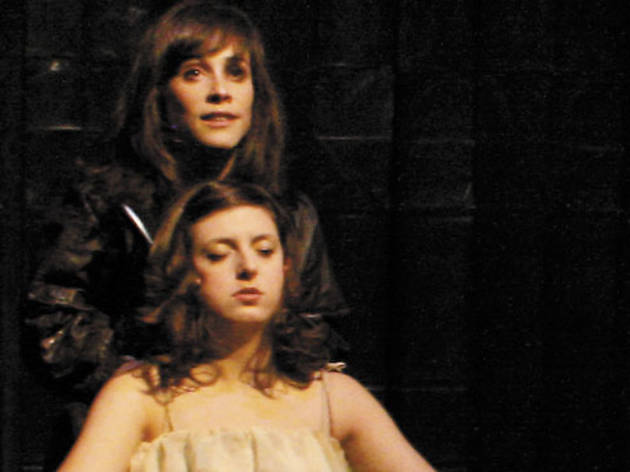 After the death of a loved one, the bereaved are entitled to a period of magical thinking (illogically believing, for instance, the dead will come back), but the heroine of Gregory Moss's 2007 one-act takes it to a whole 'nother level. When a flood of biblical proportions takes out some unnamed metropolis, Mia (Carla Kessler) stuffs the body of her drowned twin sister, Ana (Victoria Bucknell), into a shopping cart and wheels her from place to place, hoping to give the corpse the experiences Ana will miss out on because she died before having really lived. Mia gets her dead sister a dead dog and even a dead boyfriend, whom Mia acquires at a necrophiliac brothel—a "charnel house of ill repute," as the scuzzy proprietor puts it.
There is, of course, the potential for black comedy and for Weekend at Bernie's–type maneuverings, both of which are ably realized in Jeffry Stanton's unsettling production, which has the look of an urban wasteland or a staging of Rent gone terribly wrong. Stanton also manages to convey the script's aching sense of loss and missed opportunities, and the show displays a surprising sweetness, as when the deceased lovebirds suddenly come to life—presumably in Mia's imagination—and dance a nice little pas de deux. The only problem is that Moss rushes the ending, which seems more like an abrupt stopping point than a conclusion. The sisters' final colloquy on life and death feels unearned and unfinished.