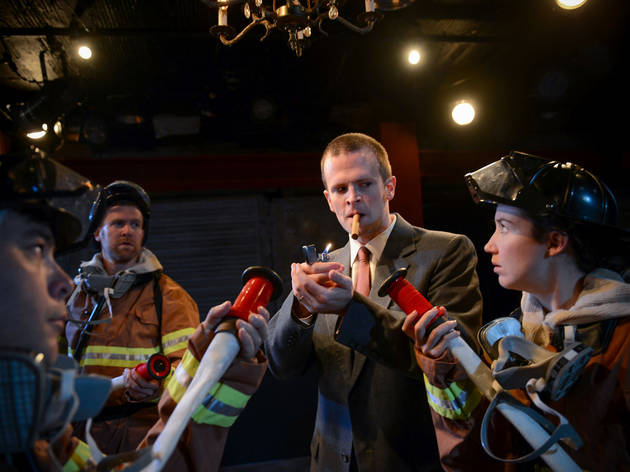 1/4
Photograph: Chris Ocken
The Arsonists at Strawdog Theatre Company
2/4
Photograph: Chris Ocken
The Arsonists at Strawdog Theatre Company
3/4
Photograph: Chris Ocken
The Arsonists at Strawdog Theatre Company
4/4
Photograph: Chris Ocken
The Arsonists at Strawdog Theatre Company
Strawdog Theatre Company. By Max Frisch. Directed by Matt Hawkins. With ensemble cast. Running time: 1hr 30mins; no intermission.
Theater review by Kris Vire
In Max Frisch's 1953 parable, crooked businessman Biedermann reads in the newspaper about a group of mysterious firebugs who "wangle their way in" to people's houses, which they then set ablaze. Moments later, he's visited by a man who, claiming to be homeless, has soon wangled his way into Biedermann's attic by flattering his ego and appealing to his desire to be seen as a man of empathy, even though he's not.

Soon Schmitz's associate, Eisenring, shows up unbidden, and before long the attic is piled high with drums of gasoline. Though these are clearly the arsonists Biedermann saw in the news, he twists himself into knots to convince himself they aren't, so as to avoid any messy conflict. This despite the fact that Eisenring, for his part, is plainly straightforward about their plans; as he explains to Biedermann while the businessman helps him measure fuse wire, telling the truth is the easiest way to fool people, because no one ever believes it.

In Matt Hawkins's production for Strawdog, a seven-member chorus in modern firefighting gear drives home Frisch's point, in case we've missed it: People are all too apt to fall victim to disaster because they avoided taking action when they could, a process the playwright likens (in this 2007 translation by Alistair Beaton) to "stupidity dressed up as fate."

Hawkins's production makes effective use of Strawdog's space, with Mike Mroch's set design making the room feel uncomfortably claustrophobic. Robert Kauzlaric is engagingly squirrely as Biedermann, with appealingly flighty work by Sarah Goeden as his exceedingly nervous wife, Babette. But Hawkins has Scott Danielson and Ira Amyx lay the menace on a bit thick, taking an already unsubtle piece to an anvillish level.

And for me, Strawdog's Arsonists suffers from an unfortunate timing problem not of its making. Frisch, writing in the aftermath of World War II, was working in response to the rise of the Nazis, seeking to explore how people allow evil to gain hold. But seeing the play on the day Mike Brown was laid to rest in Ferguson, Missouri, the depiction of bourgeois types coddling "thugs" and willing to believe anything so as not to be seen as judgmental, or politically incorrect, sounded uncomfortably akin to racist apologists cycling through arguments for why a different group of "thugs" probably deserve to get shot—especially when a "do-gooder" academic who's been studying the arsonists tries to renounce his association after the fires are set, because he finally realized "they do it because they like doing it." It set me in mind of a whole other set of fires that need fighting.