The Balcony at Trap Door Theatre: Theater review
Max Truax helms a revival of Jean Genet's brothel-set sendup of sex and power.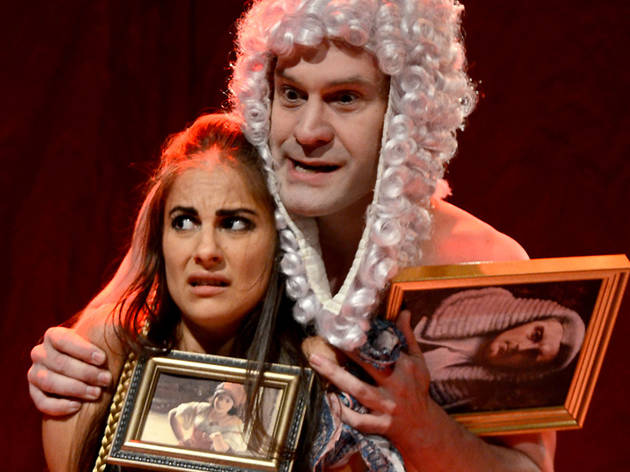 1/3
Photograph: Michal Janicki
David Steiger and Simina Contras in The Balcony at Trap Door Theatre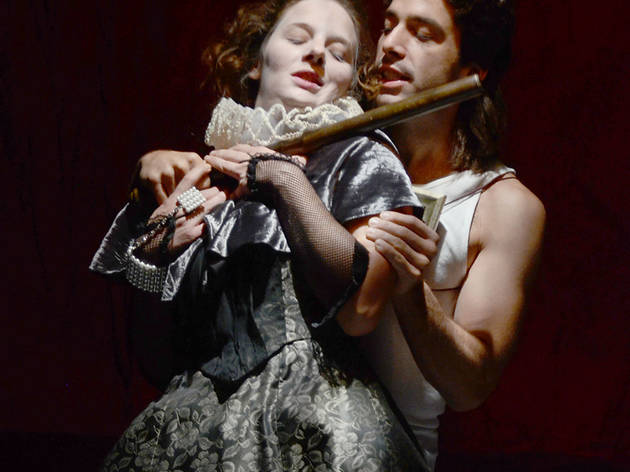 2/3
Photograph: Michal Janicki
Nicole Wiesner and Thom Pasculli in The Balcony at Trap Door Theatre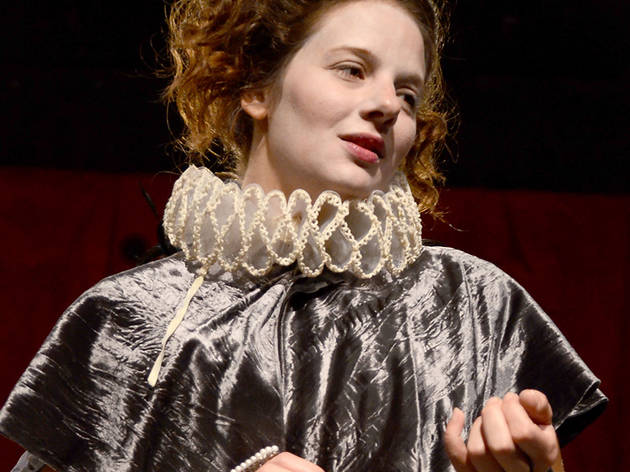 3/3
Photograph: Michal Janicki
Nicole Wiesner in The Balcony at Trap Door Theatre
In this, the Summer of Weiner, Americans have grown fairly accustomed to seeing our leaders in their skivvies, metaphorically and otherwise. Set on the eve of a cultural revolution, French absurdist Jean Genet's 1957 dramatic comedy similarly both undresses and mocks up adorned figureheads in a brothel turned safe-house, demystifying and poking…fingers, we'll say, at hierarchies among lords and laymen alike.
In a boudoir-red haven from violence uprooted by a lower class uprising outside, citizens visit Madame Irma (Nicole Wiesner) to shed their societal roles and swap them for others for a sexual thrill. Fantasies include a bishop feeding off a confession (John Kahara), a judge issuing a verdict (David Steiger), and a general deepening his relationship to his steed (Carl Wisniewski). Max Truax's Trap Door production takes the metaphor one step further with an effective costume trick designed by Rachel Sypniewski, positing each client in their underthings while carrying a chained miniature portrait of their desired member of the bourgeoisie. When their real-life counterparts start losing their heads, the Chief of Police (Alžan Pelesić) and the Queen's Envoy (Antonio Brunetti) arrive with a plan to reinforce the order of power in a way that may pervert it even further.
With The Balcony, Trap Door continues its long held tradition of presenting mature, challenging political theatre for discerning audiences. Ensemble member and company staple Wiesner is in true, larger-than-life form as the brothel's madame. Even in the company's intimate space, Wiesner's commanding, grandiose performance style never feels overwrought.
An attempt at immersive seating by set designer Joanna Iwanicki envelops some audience members around the action in onstage booths—in theory, at least. At the opening weekend performance I attended, there were very few takers. With the inherent limitations of their thimble-sized Bucktown space, I wouldn't mind seeing Beata Pilch and company push the boundaries even further—and they're just the company to do it.