Heads up! We're working hard to be accurate – but these are unusual times, so please always check before heading out.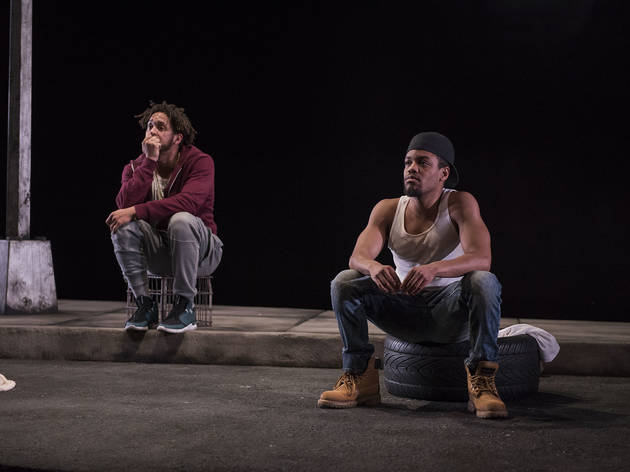 The best Chicago theater of 2017
In a year when 'identity politics' was a hot topic, much of 2017's best theater grappled with questions of identity
The common conversation in 2017 often seemed to center on disruption and revelation—on breaking norms, taboos and silences, on reckoning with systemic misconduct, on empowering the disempowered, on the intersectional politics of one's identity and on so-called identity politics. Small wonder, then, that many of the most effective productions of Chicago's stages this year dealt with self-discovery, finding (or losing) one's crowd, reclaiming narratives and waking up to the ways histories and futures can both be erased. With the regretful acknowledgment that I only saw a fraction of this year's offerings (it would take five of me to come close to seeing everything onstage in the city), these are my 10 favorites of those I did.
The best plays of 2017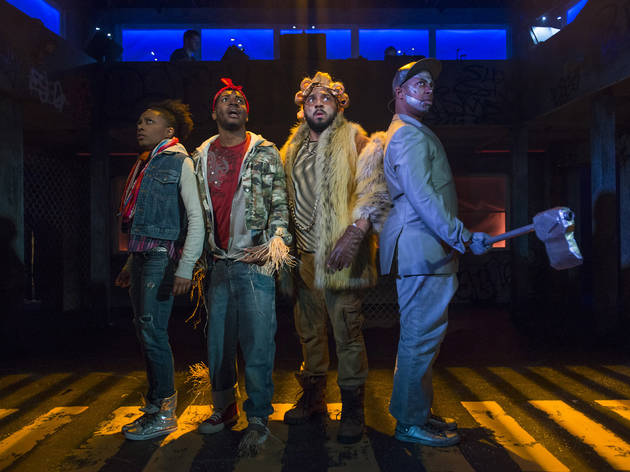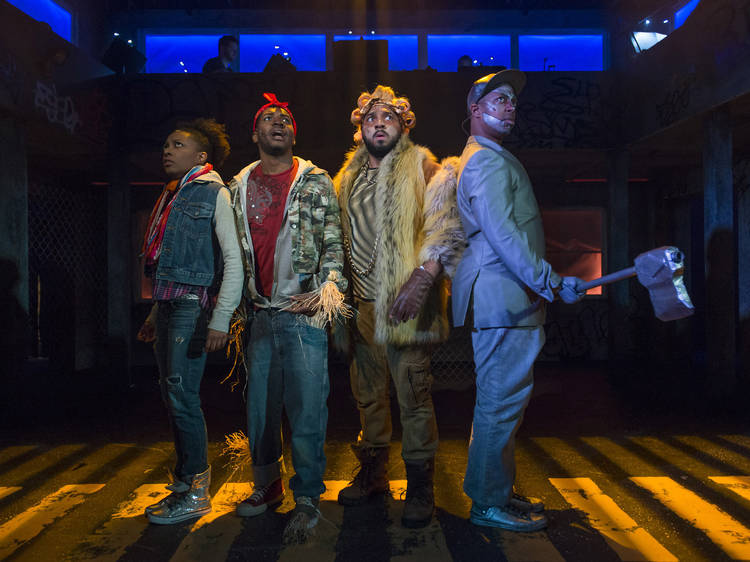 Photograph: Michael Brosilow
Kokandy Productions
Director Lili-Anne Brown's long-simmering staging of the funkified 1970s Wizard of Oz update pulsated with affection for the material. With a cast led by Sydney Charles's Dorothy (deliciously supported by the likes of Nicole Michelle Haskins, Gilbert Domally, Chuckie Benson and Steven Perkins) and giddily inventive designs by Arnel Sancianco and Virginia Varland, the spring production truly brought no bad news.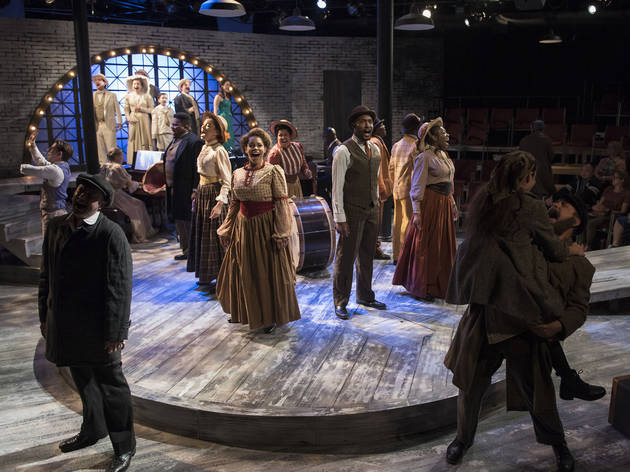 Photograph: Michael Brosilow
Griffin Theatre Company
The musical adaptation of E.L. Doctorow's novel, about social turmoil at the turn of the 20th century as experienced by three intersecting ethnic groups—WASPy whites, aspirational African-Americans and Eastern European immigrants—has become a staple in the two decades since its debut (so much so that another local production will bow in January at the Marriott). Rising director Scott Weinstein's immersive staging eschewed the bombast baked into the original, paring the score down to two pianos and letting the actors roam among the audience—for a product so efficiently affecting even Henry Ford would've loved it.
Photograph: Michael Brosilow
About Face Theatre and Theater Wit
The Chicago premiere of this anti-romantic comedy by Joshua Harmon (Bad Jews) saw Alex Weisman cast as Jordan, the perpetually single, borderline obsessive gay man watching the clock tick toward his 30s as his best girlfriends keep getting married. Harmon's razor-sharp script captured a disarmingly up-to-the-moment set of social anxieties—now that we have marriage equality, is it even worse to be unmarried? And Keira Fromm's savvy production gave us a last precision turn by Weisman, who's been winning over Chicago audiences since his professional debut in The History Boys at TimeLine nearly a decade ago, before he left town for his upcoming Broadway bow in a little show called Harry Potter and the Cursed Child.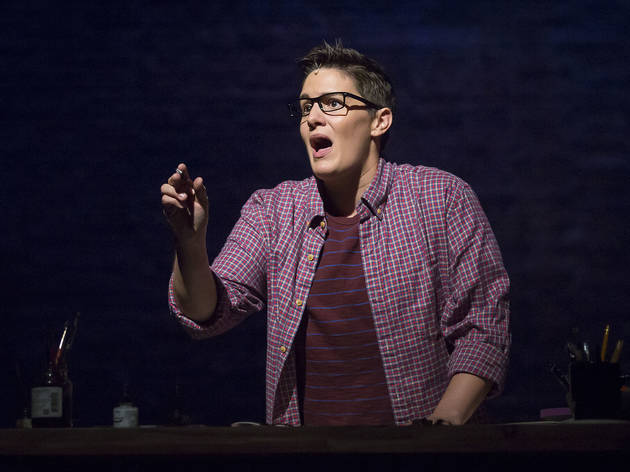 Photograph: Liz Lauren
Victory Gardens Theater
The 2015 Tony Award winner for Best Musical, sensitively adapted by Jeanine Tesori and Lisa Kron from lesbian cartoonist Alison Bechdel's memoir of discovering her sexuality at the same time she learned her dad was secretly gay, has always been an intimate affair. And while Victory Gardens's production, directed by Gary Griffin, was even sparer than the in-the-round Broadway staging, it was no less compelling, with rich musical direction by Doug Peck, moving turns by stalwart actors Danni Smith (pictured) and Rob Lindley, and a breakout performance by Hannah Starr as college-aged, coming-out Medium Alison.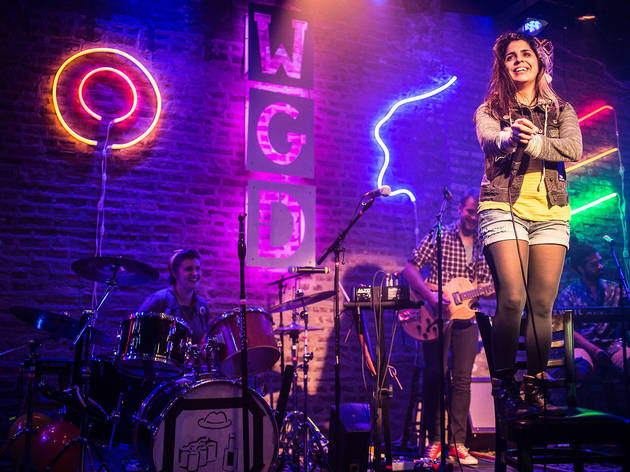 Photograph: Austin D. Oie
Haven Theatre
NYC experimentalist playwright Young Jean Lee had a higher-profile Chicago production this year with Straight White Men at Steppenwolf (which will go higher profile still when Steppenwolf's Anna D. Shapiro directs a Broadway transfer next summer starring Armie Hammer and Tom Skerritt). Much as I loved that subversive script, though, I got a more visceral jolt from this small-scale Lee piece, a punk-rock monologue with songs about confronting mortality, led in director Josh Sobel's bracing production by galvanic tricksy dream girl Isa Arciniegas.
Photograph: Matthew Freer
Broken Nose Theatre
Few, including me, saw this storefront sleeper hit coming. On paper, writer Michael Perlman's play sounded like a millennial retread of the well-worn Big Chill model. And that's what it was, but also so much more; Perlman's script dealt honestly with interpersonal realities of social media and "social justice," identity politics and identity crises. Elevated by a deeply invested ensemble cast under Spenser Davis's sharp direction, At the Table became one of the year's most sought-after seats among those in the know.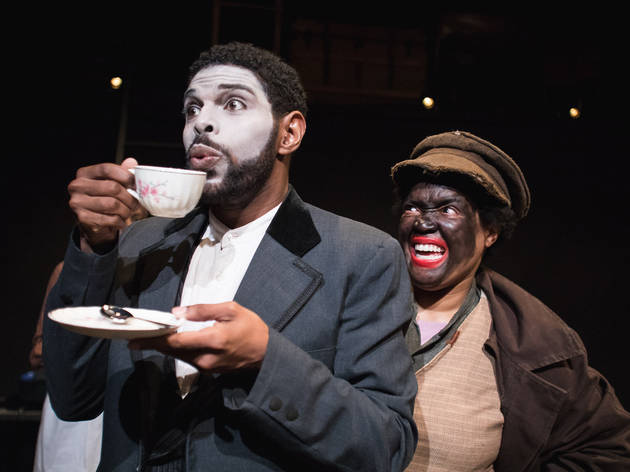 Photograph: Joe Mazza
Definition Theatre Company
Branden Jacobs-Jenkins's fiery satirical deconstruction of The Octoroon, a real-life race melodrama by 19th-century Irish actor-playwright Dion Boucicault, took its time to find a Chicago production after playing New York, D.C., London and other cities. But the young Definition Theatre Company proved a proper match for this daring, discombobulating metatheatrical thrill ride, with a top-notch cast that confidently navigated all of Jacobs-Jenkins's breakneck curves.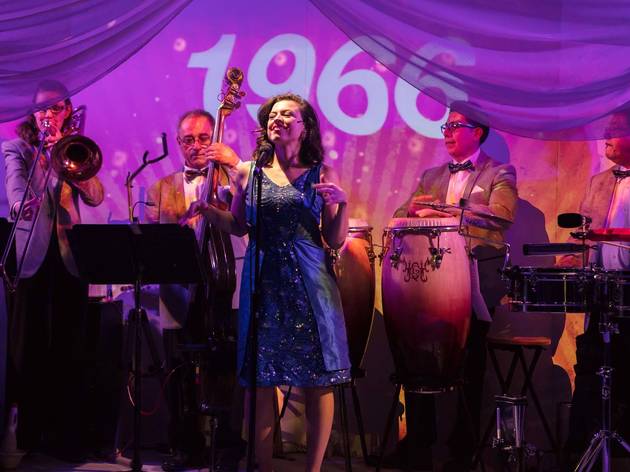 Photograph: Joel Maisonet
Teatro Vista
Writer-performer Sandra Delgado filled in a blank in Chicago's history with this conjuring of a long-forgotten Lakeview nightclub that was a gathering place for Latinx immigrants in the 1950s and '60s. In a setting that evoked the nightclub itself, we met fictionalized patrons of La Havana Madrid (composites of real-life regulars) and heard their stories, accompanied by Latin band Carpacho y Su Super Combo and watched over by Delgado herself, whose club-singer character was a kind of summoning spirit of Chicago's Latino legacy.
Photograph: Liz Lauren
Goodman Theatre
I don't always love to see our local theater institutions importing actors from New York or elsewhere rather than drawing from Chicago's own rich talent pool. But it was hard to fault the Goodman for bringing the 2015 debut production of this searing piece by Branden Jacobs-Jenkins (yep, him again) in wholesale from NYC, cast, creative team and director Evan Cabnet intact. The indelible play drew you in as a smart satire of young professionals before pulling a chilling bait-and-switch; this ensemble (led by the incisive Ryan Spahn) steered into the darkness with aplomb.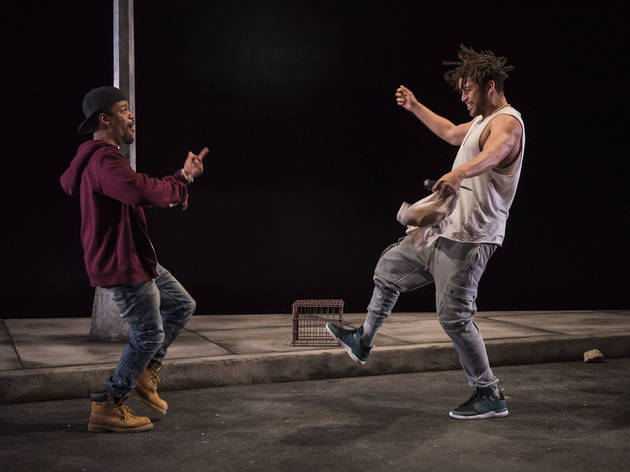 Photograph: Michael Brosilow
Steppenwolf Theatre Company
You can't always immediately tell on your way out of the theater which plays are going to stick with you most persistently. The staying power that Antoinette Nwandu's Steppenwolf world premiere had in my head was certainly enhanced by the heated conversation it sparked across the city last summer. But Nwandu's skillful, piercing recasting of Waiting for Godot as an allegory of young black men in America waiting for a change has held on in my thoughts on its own merits: the strikingness of its visuals, the economy of its language, the generous intensity of its performances. With the surprise news earlier this month, reported by the Chicago Tribune, that Spike Lee quietly filmed Danya Taymor's production over the summer—and that the resulting film featuring original cast members Jon Michael Hill, Julian Parker and Ryan Hallahan will be screened at Sundance in January—it seems Pass Over is about to be on a lot more minds.