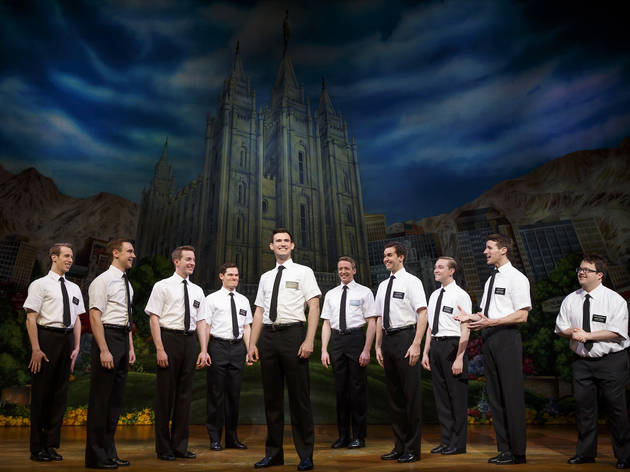 1/5
Photograph: Joan Marcus
The Book of Mormon touring cast 2016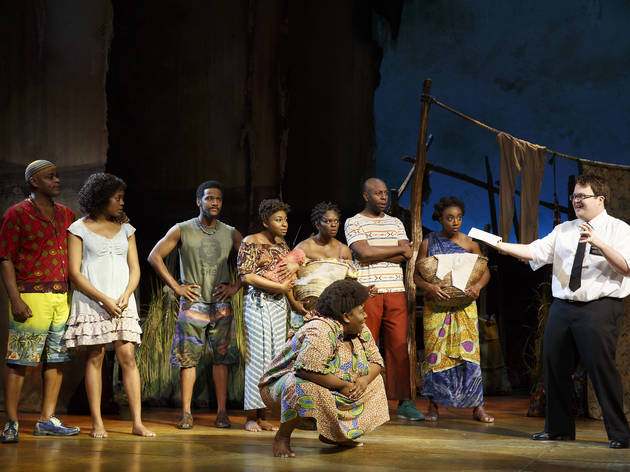 2/5
Photograph: Joan Marcus
The Book of Mormon touring cast 2016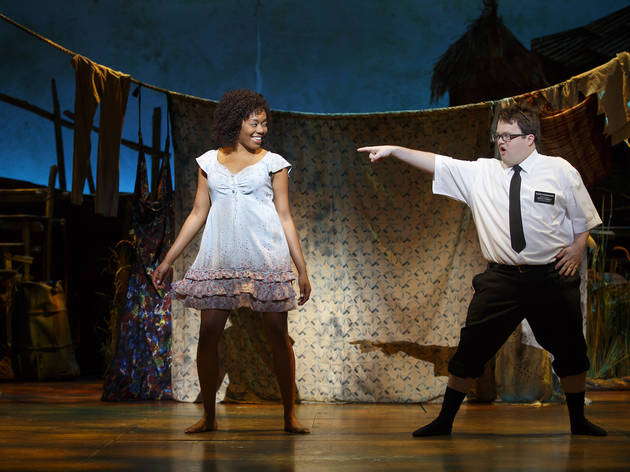 3/5
Photograph: Joan Marcus
Candace Quarrels and Cody Jamison Strand in The Book of Mormon touring cast 2016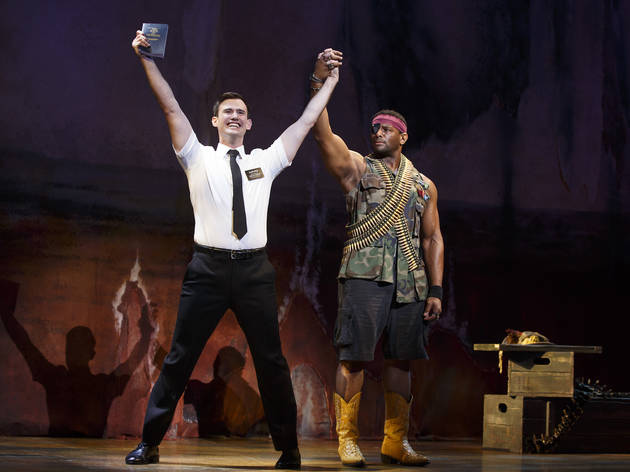 4/5
Photograph: Joan Marcus
Ryan Bondy and David Aron Damane in The Book of Mormon touring cast 2016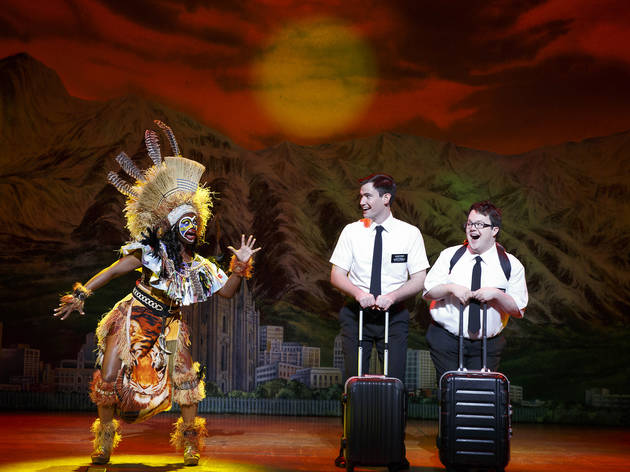 5/5
Photograph: Joan Marcus
The Book of Mormon touring cast 2016
You'll still want to answer the door when these cheeky Mormons come calling.
Five years in, and now in its third touring appearance in Chicago, The Book of Mormon's audiences presumably know what they're in for. That doesn't mean the show has lost its ability to generate electric jolts. The irreverent musical by South Park honchos Trey Parker and Matt Stone and Frozen composer Robert Lopez, equal parts foul-mouthed, gleefully blasphemous and sweet-natured, still knows just how to ring our bells with its culture clash of Mormon missionaries out of their depth in deeply depressed northern Uganda.
The current touring cast doesn't quite live up to the high bar set in 2012 by the original Chicago ensemble led by Nic Rouleau and Ben Platt, still the best I've seen in this show (including the original Broadway cast). But the fine leads here do bring some new shadings to their characters; Ryan Bondy's upstanding Elder Price displays an unsettling and slightly dark intensity, and Cody Jamison Strand's take on the misfit Elder Cunningham finds a middle way between Josh Gad's cartoon spazziness and Platt's sweetness.
The production remains as sharp as ever, and the clever script and score impress anew with their canny mix of Pythonesque ridiculousness, keen social commentary and astute homage to the musical-theater canon. (Having seen a couple of stagings of The King & I since my last viewing only reinforced for me how dead-on is Parker, Lopez and Stone's skewering of the former's "Small House of Uncle Thomas" sequence.) For worshipers of musicals, The Book of Mormon remains a sacred text.
The PrivateBank Theatre. Book, music and lyrics by Trey Parker, Robert Lopez and Matt Stone. Directed by Casey Nicholaw and Trey Parker. With Ryan Bondy, Cody Jamison Strand, Candace Quarrels. Running time: 2hrs 30mins; one intermission.
Rating Breakdown
5 star:

3

4 star:

0

3 star:

0

2 star:

0

1 star:

0
One of the best shows i have ever seen. I would gladly go back and see it over and over again! The audience was so engaged in the show and I don't know how anyone wouldn't love it!
Since the Book of Mormon has been in Chicago, I've been wanting to go, only to have it evade me every single time for one reason or another. But this time around, I finally made it. I didn't know too much going in, which I think set me up for a great experience. The cast was funny and delightful, the story is hilarious and fun. I can't wait to see it again.