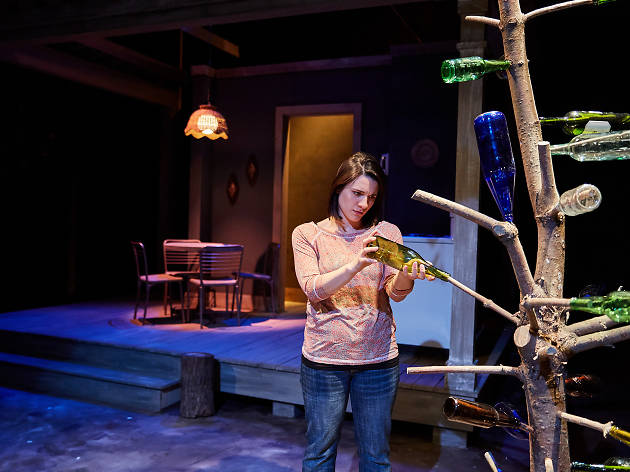 1/6
Photograph: Ian McLaren
The Bottle Tree at Stage Left Theatre
2/6
Photograph: Ian McLaren
Kathryn Acosta and Christina Gorman in The Bottle Tree at Stage Left Theatre
3/6
Photograph: Ian McLaren
Kathleen Ruhl and Kathryn Acosta in The Bottle Tree at Stage Left Theatre
4/6
Photograph: Ian McLaren
Allyce Torres, Nick Savin, Emilio Velasco and Kathryn Acosta in The Bottle Tree at Stage Left Theatre
5/6
Photograph: Ian McLaren
Kathryn Acosta and David Lawrence Hamilton in The Bottle Tree at Stage Left Theatre
6/6
Photograph: Ian McLaren
The Bottle Tree at Stage Left Theatre
Solid performances elevate a drama with too many branches.
It's always a pleasure watching good actors do good work, and if they're well cast, that experience becomes even more enjoyable. Forgive the sports analogy in a week when Chicago will get no shortage of them, but it's a bit like watching athletes who know they're in the zone. Everything seems somehow easier and simultaneously more impressive, inevitable while still improbable.
The fine work of the ensemble (and of Stage Left casting director Brittany Gillespie) gets little in the way of assistance from Beth Kander's The Bottle Tree, a well-meaning and occasionally compelling play that suffers from the noble ambition of trying to do too many things at once. Under the thoughtful, if sometimes static, direction of incoming co-artistic director Amy Szerlong, Kander's play aims high and occasionally hits its mark. Still, it's not quite often enough to allow its many moving pieces to settle into any kind of impactful whole.
About those pieces: The Bottle Tree centers mainly on Alley (Kathryn Acosta), the younger sister of a boy who, five years before the play's primary storyline, killed three people in a high school across town from the school in which his sister is about to start. We follow Alley's journey back into public schooling—she was homeschooled for years—by way of scenes with her classmates, her mother (Christina Gorman) and her therapist (the terrific David Lawrence Hamilton). Each aspect gets the job done, more or less—Hamilton and Acosta make the most of a jaw-clenchingly familiar trope, and Acosta's rapport with Gorman is similarly appealing — with smart, surprising moments occasionally popping out of the general melange of sadness and shame.
Were that the sum total of the play's narrative tricks, it might already border on overstuffed. Unfortunately, it's not, and the other arcs, while individually compelling, tend to rob the story of some of its potency. The young Alley's story is bookended by scenes of an adult Alley being interviewed for a documentary by filmmaker Rae (Toya Turner, a standout in a mere two scenes), and buffeted throughout by a series of monologues-in-flashback from Alley's long-dead great-aunt Myrna (Kathleen Ruhl). Taken alone, they're pretty darn good, but they're not alone. Far from it.
The Bottle Tree's most engaging scene arrives in the final minutes, and feels so removed from the main action that one wonders why we spend all that time in a high school cafeteria and on a back porch. Put another way: we get 100 minutes of well-told exposition and 20 minutes that really hit home. It's easy to understand how this happened, given the terrific scene work happening throughout. What do you cut when everything works, when the issue in question is as complex and affecting as the plague of gun violence in schools?
Well, you've got to cut something, or everything suffers. This is a play about a school shooter's sister, but also about gun culture, and about parenting, and grief, and personal responsibility, and our cultural response to tragedy, and friendship, and fear, and all kinds of other things. All of it works (including the efforts of designers Katherine Arfken, Matt Kooi, and others), but there's little room for any individual story to breathe. The Bottle Tree has plenty of things going for it, but breathing room isn't one of them.
Stage Left at Theater Wit. By Beth Kander. Directed by Amy Szerlong. With ensemble cast. Running time: 2hrs; one intermission.