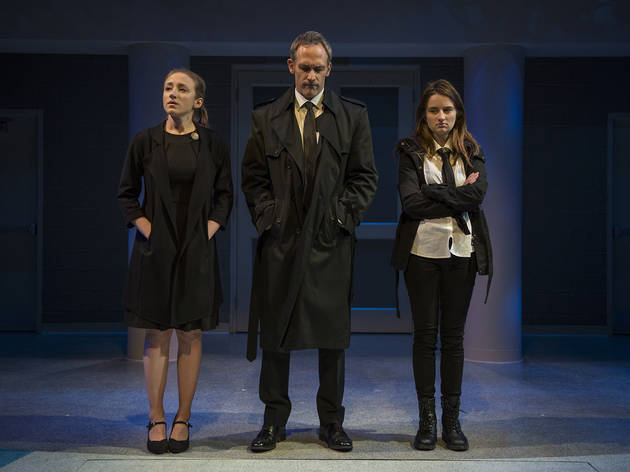 1/8
Photograph: Michael Brosilow
The Burials at Steppenwolf Theatre Company
2/8
Photograph: Michael Brosilow
The Burials at Steppenwolf Theatre Company
3/8
Photograph: Michael Brosilow
The Burials at Steppenwolf Theatre Company
4/8
Photograph: Michael Brosilow
The Burials at Steppenwolf Theatre Company
5/8
Photograph: Michael Brosilow
The Burials at Steppenwolf Theatre Company
6/8
Photograph: Michael Brosilow
The Burials at Steppenwolf Theatre Company
7/8
Photograph: Michael Brosilow
The Burials at Steppenwolf Theatre Company
8/8
Photograph: Michael Brosilow
The Burials at Steppenwolf Theatre Company
A powerful take on school shootings doesn't pander to its young audience.
Steppenwolf's premiere of playwright Caitlin Parrish's The Burials, directed by her frequent collaborator, Erica Weiss, is a part of the company's Steppenwolf for Young Adults program. And while the play, which is inspired by Antigone, is intended for younger audiences, it does almost nothing to soften the state of our country's horrific addiction to firearms. And why should it? This is the kind of news that kids are seeing in their lives, communities and social media feeds every day.
When the play begins, high school senior Sophie Martin (Olivia Cygan) is eagerly Instagramming that she just cast her first-ever vote for her father, Ryan Martin (Coburn Goss), a moderate Republican senator running for reelection. Meanwhile, Sophie's brother Ben (Matt Farabee) records an odd, unsettling iPhone video of himself outside the school. In keeping with the Greek tradition, when the mass shooting begins we do not see it onstage. But thanks to sound designer Matt Chapman, we do hear it. And it is chilling.
Sophie and her younger sister, Chloe (Becca Savoy), soon learn that it was Ben who shot up the school, killing 17 people. After winning his primary, Sophie's father's response is to advocate for arming teachers. Meanwhile, Sophie can't even sleep with the thought that there are still guns in their house. She has always been her dad's most loyal supporter, but now she has to choose between his path and her own.
The play stumbles somewhat in its early scenes as its choice to begin in medias res can leave the audience trailing behind. However, once the story gets itself on even footing, it becomes a confident, moving polemic against gun culture. Much credit goes to Cygan and Weiss for managing to render Sophie—a normal girl in an impossible situation—with such complex vibrancy. Special notice should also be given actors Ty Olwin and Aurora Adachi-Winter, who leave lasting impressions as two of Sophie's classmates, despite each receiving minimal stage time.
The Burials is a play of powerful images and moments, with an ending that feels truly, exuberantly hopeful, and contains a message of empowerment that young audiences would do well to hear.
Steppenwolf Theatre Company. By Caitlin Parrish. Directed by Erica Weiss. With ensemble cast. Running time: 1hr 30mins; no intermission.