The Caucasian Chalk Circle at Promethean Theatre Ensemble | Theater review
Though a lack of specificity in setting can jar, Promethean delivers a rousing revival of Brecht's wartime fable.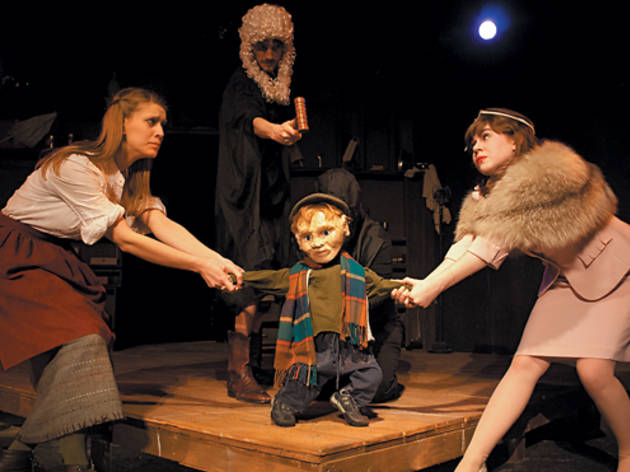 As we enter the theater for Promethean's rousing and relevant production of The Caucasian Chalk Circle, members of the large ensemble cast mill about; one or another strikes up a conversation with a theatergoer. This is Brechtian theater; we're meant to acknowledge all artifice. Through musical numbers, the cast tells the story of a peasant girl, Grusha (Sara Gorsky), who comes to mother an abandoned child.
Original music by Matt Kahler helps make for an entertaining evening, though some of Ed Rutherford's directorial choices distract. He sets Brecht's famous play not in the Caucasus Mountains but in an amorphous "limbo." This is where we live, the director notes in the program, in "a society rife with injustice, cruelty and class warfare." The lack of specificity at times feels sloppy—simply not faithful to Brecht's aesthetic. While the characters generally dress in generic peasant wear, in one scene a man sports 1960s golf attire while others don army fatigues; later, a woman appears with rolling luggage.
Teddy Lance as the rascally judge and Cary Davenport as the lead singer deliver standout performances. Though the play is meant to raise the question of motherhood—who, indeed, has the right to be a mother—this feels secondary to Brecht's rendering of a frivolous society accustomed to wartime lies: "What does war have to do with us?" and "All we need is good weather" resonate as an all-too-familiar vapidity.