The Caucasian Chalk Circle at Theatre Mir | Theater review
Jonathan Berry's competent production features a strong ensemble and a winning score but can't quite overcome the inherent imbalance in Brecht's script.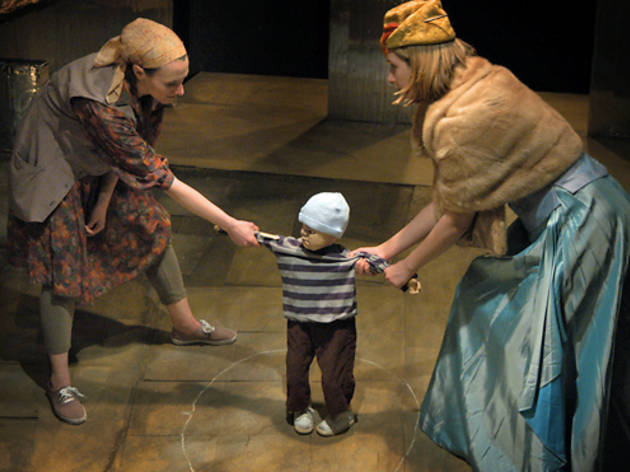 Brecht's 1944 parable about people doing the right thing amid the chaos of war gets a charmingly handcrafted production from Berry and a competent ensemble. The production, though, doesn't quite overcome the lopsided nature of the play's unwieldy structure. Berry's imaginative staging uses the entirety of the Viaduct's smaller space; Chelsea Warren's scenic design seems to have exploded from the center of the room, leaving promontories and outcroppings everywhere.
As Grusha, the servant girl who rescues the baby abandoned by fleeing nobles in the midst of a revolution, Kristen Secrist is all no-nonsense pluck, making one sacrifice after another to save little Michael (portrayed by a doll and, later, a handsome puppet designed by Megan Hovany) with a minimum of grumbling. Zeke Sulkes makes a charismatic Singer, leading the story and the songs; Chance Bone's original score, played by the cast on guitar, woodwinds, horns and squeeze-box, sounds like a winning collaboration between Brecht and Sufjan Stevens. But as with so many productions of this script, things go off the rails post-intermission when Brecht introduces his second plot, about the installation of a corrupt judge, Azdak. Though compelling as always, Yosh Hayashi overplays Azdak's drunken eccentricities a bit; by the time we finally get back around to Grusha and Michael, the resolution of their story feels rushed, like an afterthought.