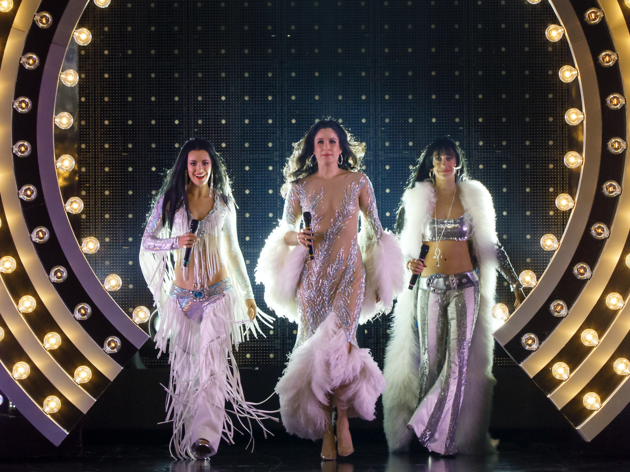 The Cher Show delivers what it promises and nothing more.
The Cher Show's blunt, unassuming title is a fair proxy. It's a show. It's a show about Cher. It's The Cher Show. Covering the singer/actress/icon's early years in its first act and the next 48 years in a shorter second act, The Cher Show is too convoluted to be anything artful but has learned enough razzle-dazzle from its subject to be generally entertaining.
If that sounds like damning with faint praise, it is, but it ain't got nothing on Cher's own commentary. In a recent interview with the Chicago Tribune, the future star of Mamma Mia 2: Here We Go Again (because why the hell not) said that she'd seen a performance and that while it certainly needed work, no parts of it made her want to gouge her eyes out. And she's right: The Cher Show is in town to work out its kinks and generate buzz before it moves on to Broadway. In its current form, it won't flame out, but it won't make much of a dent in the place either.
That same bawdy self-effacement also works as a strength. There's no honor amongst jukebox musicals, just shamelessly thin plots and big white bags with dollar signs on the side. The Cher Show takes Cher seriously, but it doesn't do itself the same favor. So, what the hell are we doing here, exactly? The answer is simple: It's freaking Cher, you ninny.
The premise, on the other hand, is ambitious—and a little strange. And also vague enough that you can mostly ignore the nonsensical bits. Cher is preparing for a variety-show concert that will celebrate her career—a concert that might also be the very musical that the audience is watching. It's unclear. Either way, there are actually three Chers. Yeah, three of them. (Somewhere in the cold, cold earth, Edward Albee's corpse does a quarter turn.)
The most senior version of Cher is denoted as "Star" (Stephanie J. Block); next in line is Lady (Teal Wicks); the youngest is Babe (Michaela Diamond). The collective Chers decide that they don't want to open the performance with the 1998 hit "Believe," because they want to make audiences hear the words anew. They recall that it was Disney's Cinderella that first ignited Cher's passion for music. Maybe they should start with that? If only they could turn… back… time.
From there, the production goes straight biopic, with each successive Cher taking her place in the queue—with the occasional switcheroo for the hell of it. The older Chers advise Babe as she grows up an outcast with her mother Georgia (Emily Skinner) and then moves to L.A. and meets songwriter Sonny Bono (Jarrod Spector). Lady takes over for the pair's hit TV variety show "The Sonny & Cher Comedy Hour" which ends when they get divorced. She sticks around as Cher strikes out out on her own, marries Gregg Allman (Matthew Hydzik) and divorces him too. Star handles things from there, chronicling Cher's turn to acting, her rise to Oscar glory and another relationship (also doomed) to the younger, non-famous Rob Camilletti (Michael Campayno).
Of course, no audit of The Cher Show would be complete without mention of fashion designer Bob Mackie, Cher's longtime collaborator. Mackie designed the costumes for The Cher Show and has been a part of the production from the beginning. His diligence is rewarded with a winning portrayal from actor Michael Berresse and a pull-out-the-stops number that turns into a fashion show of Mackie's greatest hits. Frankly, it's the highlight of the show. Maybe now that Cher has finally climbed aboard as a producer, she'll receive a number in her own show as good as the one Mackie got. In all seriousness, though, Mackie's costumes are breathtaking.
Mackie's strength is maximalism, but that same urge mostly bites The Cher Show in its sequined rear. The production could stand to lose 30 minutes, and the second half is more of an extended Wikipedia page than a compelling drama. There's an overarching fairy tale moral about loving yourself above all (cue "Believe"), but scene by scene it's just detail for the sake of detail. If you want to know what it was like for Cher to not be nominated for an Oscar, for instance, then this is the show for you. At least the early parts with Sonny feel like an actual story.
The songs are good, though, and that counts for something. Director Jason Moore and choreographer Christopher Gattelli pull off one invigorating number after the other, and the wall-of-lights set from designers Christine Jones and Brett J. Banakis—with lighting design by Kevin Adams—puts on a flashy display while remaining flexible enough for Moore to craft some indelible stage pictures.
Block, Wicks and Diamond are all wonderful—each singing not just well, but like Cher, whose roaring timbre is unlike most anything else in pop history. Plus, they are pros at stridently walking downstage, a move that Moore has them performing constantly. Spector, too, captures both the abusive workaholic intensity and the sweet romanticism of Sonny and sings a spot-on impression to boot. When Star later delivers her eulogy for Sonny and remembers him fondly through her tears, you understand why.
True to its name, The Cher Show knows how to do Cher and put on a show. Beyond that, it's not trying to be anything else. There's plenty of Cher there, there just isn't much there there.
The Oriental Theatre. Written by Rick Elice. Directed by Jason Moore. With Stephanie J. Block, Teal Wicks, Michaela Diamond, Jarrod Specter, Emily Skinner, and ensemble. Running time: two hrs, 30 min; one intermission.