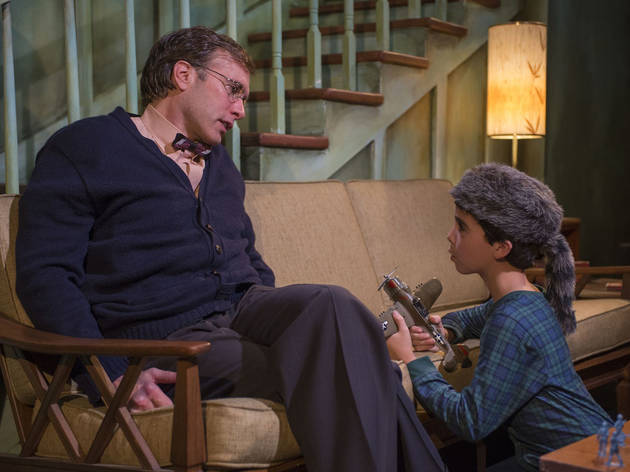 1/4
Photograph: Michael Brosilow
The Cryptogram at Profiles Theatre
2/4
Photograph: Michael Brosilow
The Cryptogram at Profiles Theatre
3/4
Photograph: Michael Brosilow
The Cryptogram at Profiles Theatre
4/4
Photograph: Michael Brosilow
The Cryptogram at Profiles Theatre
Profiles Theatre. By David Mamet. Directed by Joe Jahraus. With Aaron Lamm, Darrell W. Cox, and Abigail Boucher. Running time: 1hr 10mins; no intermission.
Theater review by Benno Nelson
David Mamet's brisk and intricate 1994 family drama is a much better play to watch than to write about. At only 70 minutes, its precision somehow lends it a fragile feeling, as though the wrong word might bruise it irreparably. And packed as it is with puzzles, even describing the play clearly and efficiently is a challenge.

In Chicago of 1959, John (Aaron Lamm), a young boy around ten years old, is having trouble sleeping the night before a trip with his father. It's late, and his father isn't home yet. Del (Darrell W. Cox), a friend of John's parents, tries to keep the mood light, but John's mother Donny (Abigail Boucher) is increasingly unable to hide her anxiety. The play unfolds by trying to solve two questions. First, why hasn't John's father returned home? Second, why can't John sleep?

Thad Hallstein's practically miniature set in Profiles Theatre's intimate Alley Stage grounds the actors firmly in their world, while bold shading on the walls gives them a dreamlike quality—as though they're in the midst of disappearing. A prominent staircase, beautifully lit by Michael T. May, is the only piece that seems full-size. It's perhaps for all this delicacy that Cox's Del—a lonely and self-loathing bachelor—feels a little too large for the space and subject matter.

A seventh-grader at Wilmette Junior High, Lamm gives a delightful performance as a precocious and frustrated child who knows he's missing something, but can't tell what. Lamm handsomely navigates the dry, fractured style of Mamet's writing without succumbing to its cynicism.

Boucher too is at the top of her game. She lends real depth to a mother pulled painfully between nurturing and exasperation for her troubled son. At last, as betrayals pile on top of her, she must struggle to choose between tending to him or herself. Though the ending is cloaked in ambiguity, one gets the sense that this last decision is the real crux for Mamet. Indeed, the setting (Mamet's hometown) and age of the boy (the age Mamet himself was in 1959) give us clues to the personal nature of this work. How do children navigate grown-up worlds, and how do grown-ups navigate the children who exist at the seams?