The Fall of Heaven at Congo Square Theatre Company | Theater review
Tempest Landry challenges his eternal judgment in crime novelist Walter Mosley's stage piece.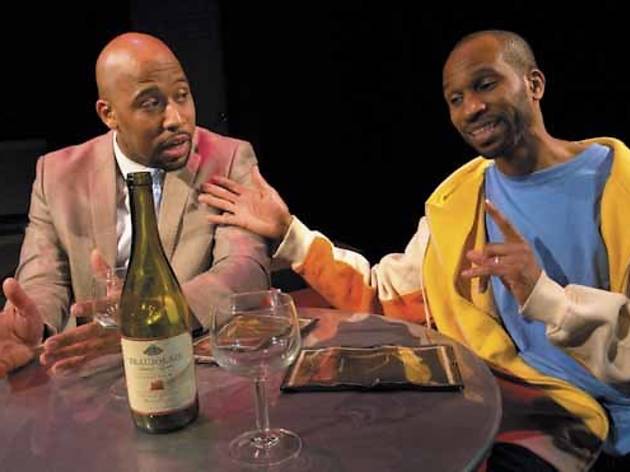 Walter Mosley's 2011 play The Fall of Heaven, adapted from his novel The Tempest Tales, offers a brilliant twist on the classic morality play. It concerns the soul of Tempest Landry (Anthony Irons), who, after being shot dead by police, finds that St. Peter has condemned him to hell. Believing his eternal damnation unearned, Tempest asserts his free will: He refuses St. Peter's judgment, sending him back to Earth with a new identity and an "accounting angel" named Joshua (Boise Holmes), charged with convincing Tempest to accept his fate.
Mosley, famous for his crime fiction, seems right at home as a playwright. His language strikes an ideal balance between lofty and colloquial, never letting his philosophical arguments impede the action. Congo Square's stellar production brings his fantastic script to life. With projections of a fractured New York, the design perfectly captures a world caught between heaven and hell. The performances are excellent, from Holmes's pious Joshua to the gleeful evil of Jordan Brown's Basil Bob. Anthony Irons's Tempest lives up to his name, a squall of wild fury yet relatable as a modern everyman. His challenge to the authority of the infinite reflects our contemporary struggles with morality and power, making Heaven both satisfying and relevant.