The Fall of the House of Usher at the Hypocrites | Theater review
Adapter-director Sean Graney and company rob Poe of power by playing him for laughs.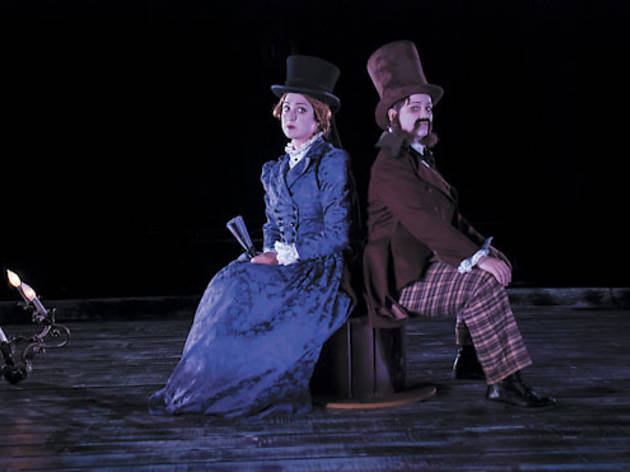 Tales don't come much creepier than Edgar Allan Poe's 1839 short story about twins Roderick and Madeline Usher and their ultra-gloomy, possibly homicidal mansion. The story's power to unsettle lies in its atmosphere of uncertainty and unaccountable dread. Reading it, you know something bad is happening at the family manse, but what, exactly?
Writer-director Sean Graney and his cast of three dilute the tale's power by playing it for laughs. Graney doesn't adapt the text—he burlesques it. He turns the unnamed narrator into a fluttery Victorian prude with a bronchial ailment and a weakness for gin. She's come to the house in hopes of marrying the moody, morbid Roderick, in spite of his semi-incestuous fascination with his ghostlike sister. Graney also adds an earthy maid with an exaggerated Scottish accent.
Performed with stylized soap-operatics and punctuated with comically timed thunderclaps, the show calls to mind Carol Burnett's campy movie parodies. All the roles are played by three women, who rapidly alternate among the four parts (everybody takes a turn playing each character). This could be intended to suggest Usher's fractured psyche or, more likely, it could be an excuse for Graney to revive the quick-change routine he devised for his staging of The Mystery of Irma Vep for Court Theatre in 2009. Here, it's only in the last two minutes—a breathtaking synthesis of violence, ritual and precipitation—that Graney matches Poe's intensity and terror.