The Feast at Prop Thtr | Theater review
A family drama about the health-care debate gets lost amid political talking points.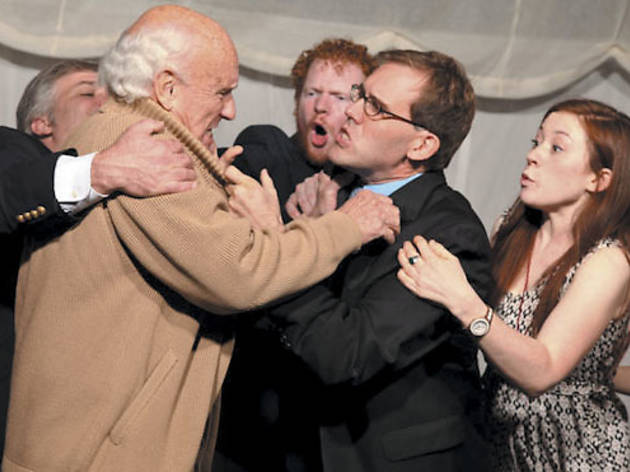 Chewing on a turkey leg as red lights burn behind him, with the crimson antlers of his mounted stag's head rising up like hell's flames, the malevolent CEO (John Ruhaak) of a health-insurance company doesn't get the subtlest treatment in Tony Fiorentino's new play. As much a family drama as it is a dramatic reenactment of a comments section at CNN.com, The Feast features archetypes representing different sides of the health-care debate: idealistic student, conflicted doctor, ambivalent lawyer, evil exec, etc. It's an extensive breakdown of one of this election season's hot-button issues, but the personal stakes get lost amid the political talking points.
When the angry husband of a woman whose policy has been cancelled terrorizes the CEO's Thanksgiving gathering, family tensions rise until they snap. Fiorentino's dialogue is zippy and engaging in Act I, but a sloppy use of alcohol-as-plot-catalyst in the second half takes the relatively grounded situation into ridiculous territory. As the two characters most distanced from the central health-care conflict, Marssie Mencotti and Victoria Gilbert give nuanced performances as the matriarch and a newcomer to the family. While the political discussion intensifies, the relationship between these two women introduces a personal, believable conflict: How does someone make a hostile environment welcoming to a stranger who doesn't belong?