The Field, the Mantel by Cupola Bobber | Theater review
Brutal and hopeful, Cupola Bobber's final Chicago debut leaves us gasping for breath.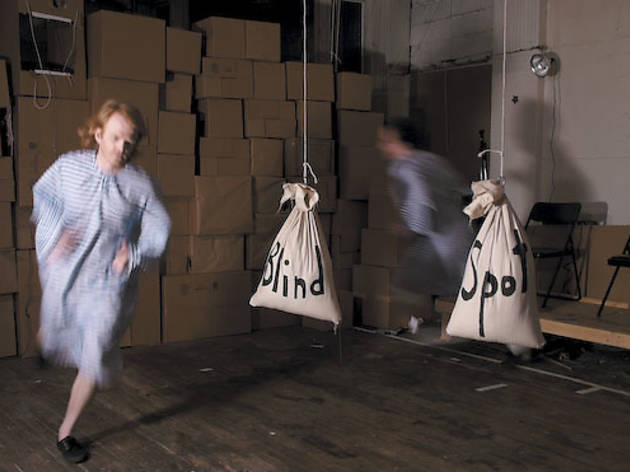 Developed over the course of two years, Cupola Bobber's final Chicago debut (the collaborative duo is soon New York–bound) is expansive and intensely personal, vexing and direct, and—presented in its Humboldt Park studio, which seats no more than 20—alluring and fatiguing at once. Entrants to the space meet an oblong room bisected by a tremendous wall of cardboard boxes. Seated on each side in a single row, the audience first sees only half of the performance—in my case, a list-poem that gives birth to a retelling of American history by a subdued yet self-aggrandizing Buffalo Bill. Shadow puppets and headlamps illuminate the action as the wall is smashed and rebuilt on each side of the stage. It's a fascinating prelude to the main event, a long sequence in which Fiehn and Myers run circles around and collide with one another as speeches by Martin Luther King Jr., Malcolm X, LBJ and Reagan duel and merge, enunciating the promise and futility of human progress.
It's an intense inversion of traditional drama. By the end, both men are dripping with sweat, barely able to speak. The audience is equally exhausted for having watched it, but it's a deliberate exhaustion born in the brutal repetition. It leads to a quietly drawn close, beautiful and hopeful, delivered between gasps for breath. This is an uncanny performance, and one Chicago should embrace while Cupola Bobber is still ours.