The Gingerbread House at Red Tape Theatre | Theater review
Overtaxed parents seek relief by selling the kids in Mark Schultz's black comedy.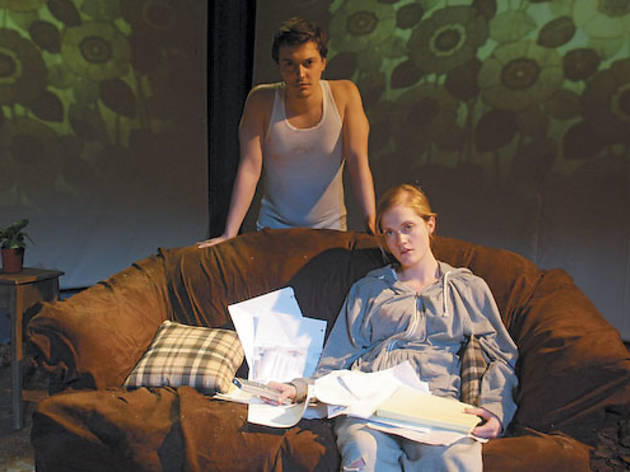 A frumpy, exhausted, undersexed couple (Mike Tepeli and Meghan Reardon) toy with a radical solution to their financial and marital woes: Sell the kids. They'll be better off elsewhere, argues Dad, and he and his wife are entitled to some peace of mind. After a quick meeting with a charming and reassuring broker (Nicholas Combs), the little ones are off to a gorgeous home in Albania—we hope—and Mom and Dad begin life anew.
James Palmer's immersive and occasionally searing production of Mark Schultz's 2009 black comedy employs all sorts of piquant little tricks to humanize the absurd characters. A chorus of would-be daughters mocks Mom with sinister Radio Disney–type refrains, and thoughtfully executed projections by Mike Stanfill create a heightened atmosphere in which Schultz's dark premise carries at least some plausibility. Burdened by the gravity of what she's done, Mom imagines her abandoned children's current state in monologues Reardon renders harrowingly. By the end, though, Palmer's efforts aren't enough to substantiate Schultz's concept, which rides off the rails when his comedy starts begging for rim shots. What begins as an enticing philosophical inquiry ends as an obvious parable, no matter how sweetly Red Tape coats it.