The Glass Menagerie at Mary-Arrchie Theatre Co. | Theater review
Actor-director Hans Fleischmann brings a strong concept to Tennessee Williams's oft-revived drama.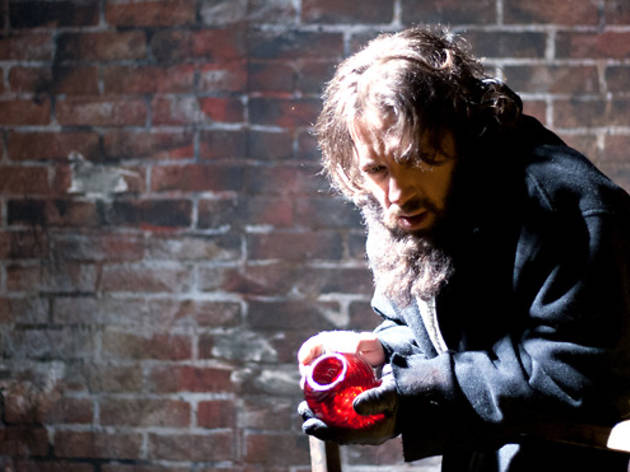 Even if you've seen The Glass Menagerie before (and there've been at least three Chicago productions this year), you've probably never experienced Tennessee Williams's ubiquitous drama like this. In Mary-Arrchie's production, now remounted at Theater Wit after an extended winter run at Angel Island, Tom (Hans Fleischmann) is a homeless drunkard who, in a grimy, dilapidated alley, recounts his past between swigs from a flask. Tom has become the very thing his mother feared he would and now is haunted by memories presented in highly stylized flashbacks.
Fleischmann does double duty as director, staging the production to emphasize the filter of Tom's fractured psyche. In Act I, blocking the actors so they never face each other captures the disconnect among Tom; his overbearing mother, Amanda (Maggie Cain); and his sweet but damaged sister, Laura (Joanne Dubach). But at the end of the act, when Amanda makes physical contact with her son for the first time, the direction switches into a more naturalistic mode, allowing the characters' desperation to come through.
Tom references the importance of music in a memory play, and the discordant strings of Daniel Knox's original score amplify the unnerving quality of Fleischmann's concept. Grant Sabin's set is littered with glass bottles and candleholders, abstract visualizations of Laura's titular menagerie. Tom and his sister both escape the distressing real world through glass; the fantasy that exists in a wine bottle can be just as tragic as that in a unicorn figurine.