The Gog/Magog Project | Theater review
Michael Salinas is a captive and captivating presence in Jason Lindner's odd, electrifying solo piece.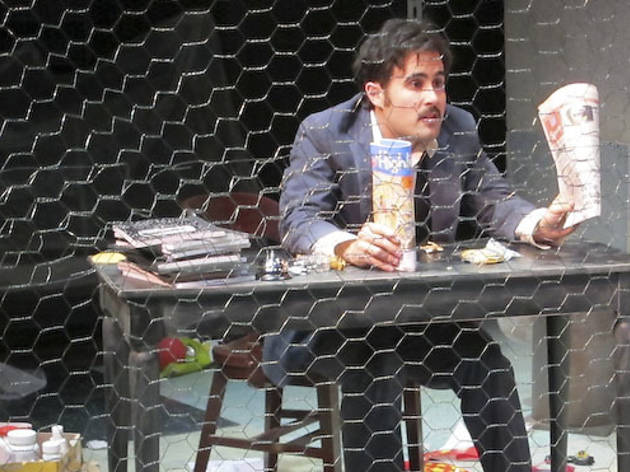 Caged behind walls of chicken wire and forced to perform seven times a week, Alexander Gog (Michael Salinas) sacrifices everything for his art during an indefinite theatrical prison stay. As the artist descends into insanity, he speculates on the government conspiracy behind moon pies, serenades a stuffed Elmo on a tire swing and ultimately creates an antimatter version of himself named Magog for company.
Gog's psychological deterioration fuels Jason Lindner's electrifying 2000 solo piece, with Salinas's stirring performance fully tracing the character's complex journey. The actor creates a sense of security by leading the audience in a call-and-response choral section before diving into Gog's psychosis, ranting about the sad state of contemporary theater and stepping into the shoes of his antimatter persona. Composed from Gog's "personal notes," the script tells a comprehensive, albeit scattered, history in just more than an hour, and although the play loses some momentum as the focus shifts inward, Salinas remains captivating.
"Why are you here? Why aren't you at a movie?" Gog asks at one point, yet Lindner's play is a prime example of the immediacy and community that can only be captured onstage. If theater has the power to inspire and provoke, through Alexander Gog we also see its ability to corrupt and destroy.