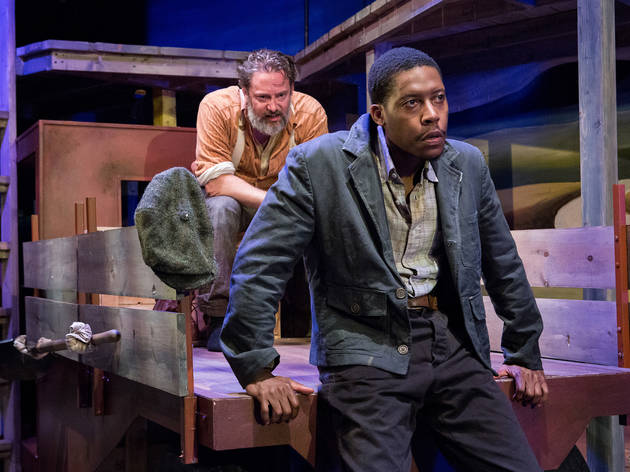 1/8
Photograph: Claire Demos
The Grapes of Wrath at the Gift Theatre
2/8
Photograph: Claire Demos
The Grapes of Wrath at the Gift Theatre
3/8
Photograph: Claire Demos
The Grapes of Wrath at the Gift Theatre
4/8
Photograph: Claire Demos
The Grapes of Wrath at the Gift Theatre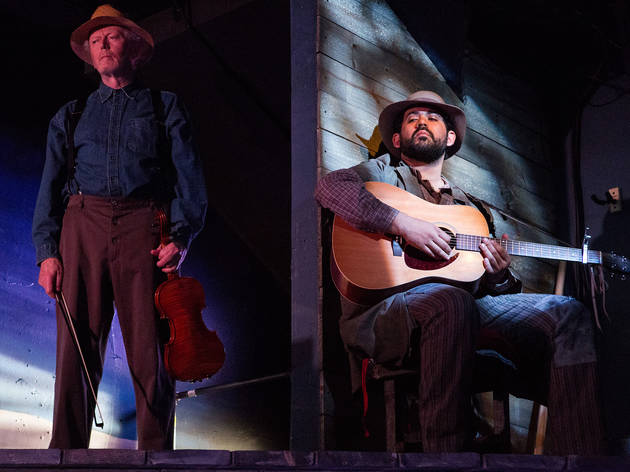 5/8
Photograph: Claire Demos
The Grapes of Wrath at the Gift Theatre
6/8
Photograph: Claire Demos
The Grapes of Wrath at the Gift Theatre
7/8
Photograph: Claire Demos
The Grapes of Wrath at the Gift Theatre
8/8
Photograph: Claire Demos
The Grapes of Wrath at the Gift Theatre
The cycles of the past feel all too present in the Gift's claustrophobic restaging of Steinbeck.
Taking Frank Galati's sweeping adaptation of John Steinbeck's even more sweeping novel The Grapes of Wrath and cramming it into a 50-seat theatre is a choice that could have ended like the Joad family—which is to say, poorly.
Luckily for Chicago audiences, director Erica Weiss has created something else entirely at the Gift Theatre in Jefferson Park: a portrait of poverty as claustrophobia. Whereas Steinbeck's story is one of wide open plains and endless roads and lush, rotting valleys, this Grapes of Wrath is one of human bodies squeezed into the back of a rusting jalopy. It begins with a man being released from prison into a world that's just another overcrowded cell.
It's a great show, but it's also Grapes of Wrath, so don't expect to leave the theatre with a spring in your step. Walking out feeling depressed is how you know it's working. For those not familiar with the plot, it goes a little something like this: The Joad family is in Oklahoma and it's the Depression. The Dust Bowl has made them extremely poor. So they decide to go to California where they hear they will not be poor. Then they go to California and, no, they are still extremely poor, just in a different way.
Most productions of Galati's stage adaptation—including the 1988 Steppenwolf original—are predominantly white affairs, but, this production is not. And it is all the better for it. After all, it's a play about systemic poverty, and it's being presented in 2016: A sea of white faces wasn't going to cut it.
Here, the Joads are a mixed-race family. Namir Smallwood's Tom Joad is a man of quiet, inquisitive intensity. He's the play's slowly breaking heart. His parents, played by Paul D'Addario and Kona N. Burks, are farmers through and through: tough, decent, resilient and poorly suited to rapid change. His brother, Al (Lane Flores), and his sister, Rose of Sharon (Emily Marso), both share in the family's misplaced optimism that California will mean a better life.
The ensemble is strong, but if there's a standout, it's Jerre Dye as Jim Casey, an ex-preacher turned proto-hippie. Dye brings a jazzy, boozy stream-of-consciousness to the man that truly makes him feel like a prophet. You know when he talks about how maybe all men are just part of "one big soul" that it's time to sit up and listen. Besides, with 19—yes, 19—actors all sharing such small quarters, the idea of them also sharing a single soul doesn't sound that crazy.
The Gift Theatre. Adapted by Frank Galati from the novel by John Steinbeck. Directed by Erica Weiss. With ensemble cast. Running time: 2hrs 30mins; one intermission.