The Gray Girl at the Factory Theater | Theater review
Colin Milroy's pulpy tale of corruption and vengeance in 1950s Chicago generates honest-to-God chills.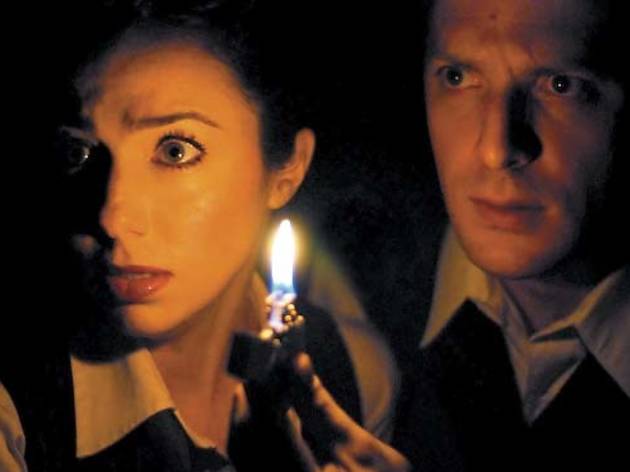 The movies have a leg up on the theater when it comes to producing genuinely scary spectacles. While watching a play, it's difficult to believe the characters' lives are actually in danger, and those fake blood packs hardly ever seem to work properly. So kudos to director Matt Engle for generating honest-to-God chills with his brisk staging of Colin Milroy's new ghost story–cum–crime thriller about vengeance and shady dealings in mid-20th-century Chicago. Engle has considerable help from Mike Tutaj's spooky soundtrack, some grisly makeup effects and, especially, the lighting design of Paul Foster, who wisely keeps illumination to a minimum, often relying on flashlights, cigarette lighters and sudden blackouts.
Milroy's script doesn't hurt, either. It tells the pulpy tale of two investigative reporters closing in on a crooked alderman with mob ties, until their source—the pol's moll, Lana—gets offed by thugs who figure out she's been snitching. Dying understandably pisses the young woman off, and so her ghost (played by Katherine Schwartz, with relish) wreaks havoc.
As silly as the premise sounds, Milroy's treatment of it is taut and incorporates a highly effective nonlinear structure. He also displays a flair for noirish dialogue. "It doesn't take training to throw a punch," Lana says in a flashback, channeling Lauren Bacall in To Have and Have Not. "You just curl your fingers and move fast."