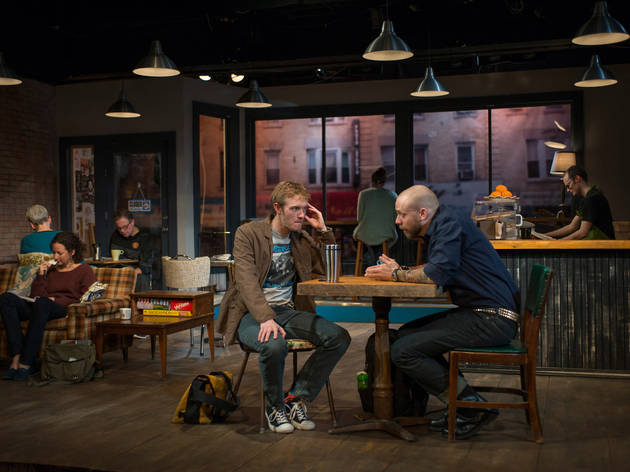 1/5
Photograph: Michael Brosilow
The Great God Pan at Next Theatre Company
2/5
Photograph: Michael Brosilow
Brett Schneider in The Great God Pan at Next Theatre Company
3/5
Photograph: Michael Brosilow
Brett Schneider and Kristina Valada-Viars in The Great God Pan at Next Theatre Company
4/5
Photograph: Michael Brosilow
James Leaming and Brett Schneider in The Great God Pan at Next Theatre Company
5/5
Photograph: Michael Brosilow
Brett Schneider and Jan Radcliff in The Great God Pan at Next Theatre Company
Next Theatre Company. By Amy Herzog. Directed by Kimberly Senior. With ensemble cast. 1hr 15mins; no intermission.
Theater review by Kris Vire
Our memories of distant events can be fuzzy, faulty or embellished, but the way we remember them shapes us regardless. But we can never really know what we don't remember—can that affect us in its own way? That's the fascinating question at the heart of this tightly coiled 2012 one-act by Amy Herzog (Belleville, 4000 Miles).
Jamie (Brett Schneider) is 32 years old and treading water: His career as a journalist is floundering, and his six-year relationship with his girlfriend Paige (Kristina Valada-Viars) is stuck in stasis. As the play opens, he's mid–awkward conversation with Frank (Matt Hawkins), a childhood acquaintance; the two once shared a regular babysitter, but they haven't seen each other for 25 years. Frank tells Jamie that he's filing criminal charges against his own father for episodes of sexual abuse that Frank has only recently come to remember, but which his father owns up to.
Jamie is sympathetic, but still confused as to why Frank reached out to confide in him. The answer is unsettling: Frank suspects his father abused Jamie as well. The latter answers with apparent honesty that he has no memory of such a thing—but then, Jamie habitually mentions that he has a terrible memory. With the suggestion planted that something awful could have happened to him as a young child, Jamie is forced to reckon with the possibility that his poor memory, and his general tendency to close himself off emotionally from even those closest to him, could be responses to a trauma he's wiped from his mind.
Herzog's slim narrative hews closely to Jamie's reluctant act of self-examination, which puts strain on a pivotal point in his relationship with Paige; Jamie also consults his mother (Jan Radcliff), who seems oddly insensitive to Frank's revelation, and his father (James Leaming), who's rattled by what it shakes loose from his own memory. Schneider, who's excelled in a number of supporting and ensemble roles around town in recent years, steps confidently into the lead, skillfully conveying Jamie's defensive panic as a crafter of other people's narratives who suddenly can't trust his own.
Schneider's supported by a choice ensemble, with particularly finely-tuned work from Valada-Viars and Hawkins. Director Kimberly Senior and scenic designer Courtney O'Neill execute a cleverly resonant concept for Next's staging, enclosing the entire action within the coffee house where Jamie meets with Frank at the top of the play; Heather Gilbert's nimble lighting design establishes shifts of location, while cast members not in the current scene remain onstage as patrons, ready to enter Jamie's thoughts at any moment. It's an astute evocation of the elusive, intrusive fluidity of memory.