The Homosexuals at About Face Theatre | Theater review
Philip Dawkins's engaging new work tracks the shared romantic history of a close-knit group of friends.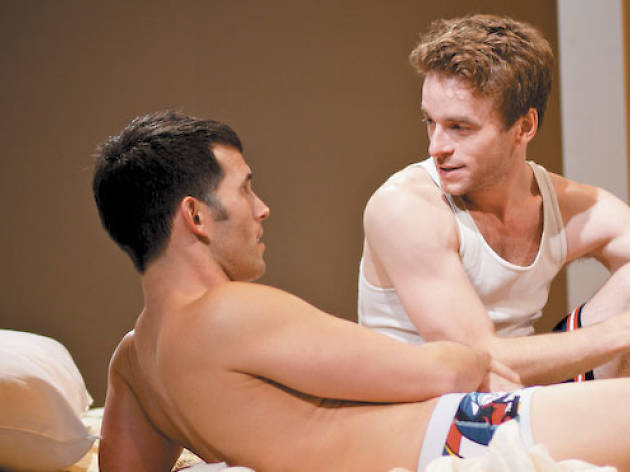 Playwright Dawkins runs the history of a close-knit circle of gay men in reverse, Betrayal-style, for this engaging new play. His scenario, which traces the twenties of Iowa transplant Evan (Patrick Andrews) through a series of pairwise encounters, is tailor-made for the kind of stellar ensemble that About Face has assembled here. Dawkins's characters embody a set of types—flamboyant theater director Peter (Scott Bradley), low-wattage nerd Michael (Stephen Cone), corporate star British Mark (Benjamin Sprunger)—but Metzgar elicits rich, nuanced performances that make the group vividly alive. Cone, who's better known as a playwright, is a revelation; caught in his own mind, his studied Michael might be the secret center of the play. Meanwhile, Andrews continues his ascent, consistently finding ways to keep the relatively bland Evan compellingly watchable.
The script demonstrates Dawkins's gift for sparkling repartee: "A catch? No, Evan, I'm a release," Peter tells his younger lover in an initial breakup scene. He deftly blends urbanely funny exchanges with moments of pathos. The Homosexuals could be a real gem of a play, if two key problems were addressed. First, Dawkins overplays the structure, which is complex but not baffling; he could trust the audience to follow events with less telegraphing. Second, and more significant, as Peter would no doubt agree, the piece needs more drama. At the end, or the beginning, Evan remains a pretty noncommittal observer of his own life: The play has to find ways to force him out of that protective shell.