The Jackie Wilson Story at Black Ensemble Theater | Theater review
Black Ensemble christens its new home with a remount of one of its most popular musical bios.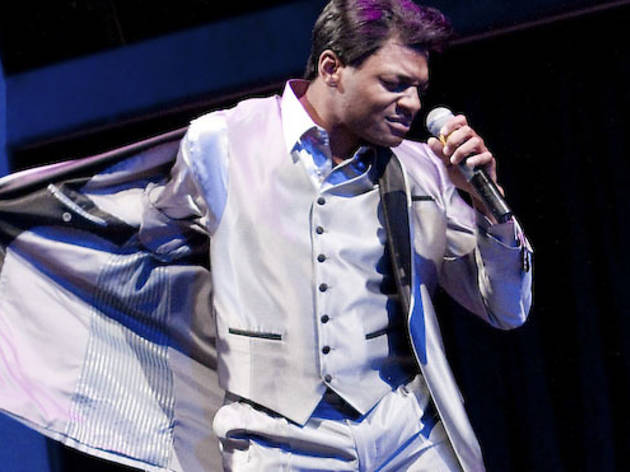 To christen its impressive new Uptown home, Black Ensemble revisits one of its biggest biographical hits. Jackie Wilson, the Detroit-native singer dubbed "Mr. Excitement" who helped facilitate the evolution of rhythm & blues music into rock & roll, was first depicted on Black Ensemble's stage in 2000 by Chester Gregory, helping propel the actor to his current Broadway career. For the remount, Kelvin Roston Jr. steps into Wilson's shoes, performing numbers from Wilson's catalog spanning "Reet Petite" to "(Your Love Keeps Lifting Me) Higher and Higher."
Black Ensemble impresario Jackie Taylor's script hits the major points of Wilson's life and career with all the nuance of a Wikipedia entry. Short scenes of young Jackie singing with his mother or greasing palms in Motor City nightclubs alternate with move-it-forward narration by Wilson's wife Freida (played by the winning Melanie McCullough) and manager B.B. (Rashawn Thompson). Taylor provides an informative if inelegant overview of Wilson's life—beginning the show with Wilson in the comatose state in which he died seems a particularly odd setup, promising a payoff that never comes—but as in many Black Ensemble shows, it's the music that's the real star. Music director Robert Reddrick leads a hot, horn-heavy band in re-creating some of the most iconic R&B of the '50s and '60s (in addition to Wilson's tunes, there are cheeky cameos by Frankie Lymon and girl group the Crystals). Roston uncannily impersonates Wilson's jittery dance moves and his soulful, soaring vocals.