The Jammer at Pine Box Theater | Theater review
Rolin Jones's roller-derby comedy has trouble staying on track.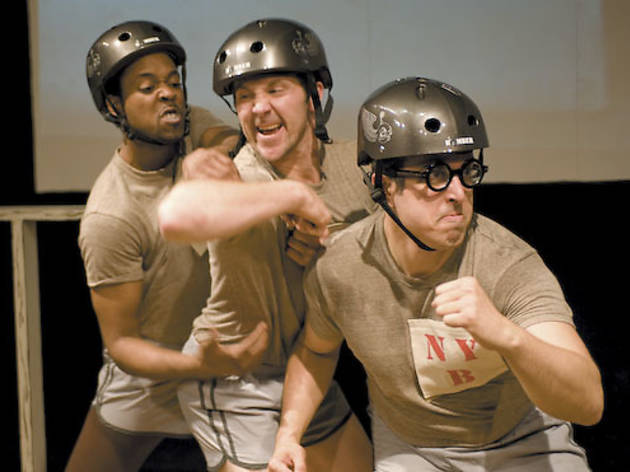 Rolin Jones's cartoonish little 2004 comedy may be set in the world of 1950s roller derby, but its quick-cutting, non sequitur–loving comic sensibility is more Family Guy than Looney Tunes. The Jammer follows handsome Jack Lovington (Josh Odor), a pious Bushwick orphan who works days in a cardboard-box factory and nights driving a cab. But Jack's true love, as he confesses over and over to Father Kosciusko (Bill Bannon), is roller derby—even if God and Jack's long-term fiancée, Aurora, disapprove. Discovered by derby kingpin Lenny Ringle (Michael Kevin Martin), Jack goes on the road with the New York Bombers, a sort of Harlem Globetrotters of the rink who win every rigged jam. While on the circuit, Jack pines for the unseen Aurora and fights temptation in the form of foul-mouthed Lady Bomber Lindy Batello (Sara Gorsky).
Jones, better known for his 2006 Pulitzer finalist The Intelligent Design of Jenny Chow and work on such TV shows as Weeds and The United States of Tara, finds some laughs in his deployment of movie-style Brooklynese and in recurring gags like having two-dimensional cutouts serve as derby extras. (The actors' wheel-less pantomiming of the roller-rink bouts is good for some chuckles as well.) But the more these gags recur—and boy, do they—the fewer laughs they return. Odor underplays his character's innocence, while Gorsky tends to dial up to 11. Vincent Teninty's stuttering production, like Jones's unfocused script, needs some grease on its wheels.