The Kid Thing at About Face Theatre and Chicago Dramatists | Theater review
Sarah Gubbins pens a conversation-stoker of a new play about lesbian couples pondering the kid thing.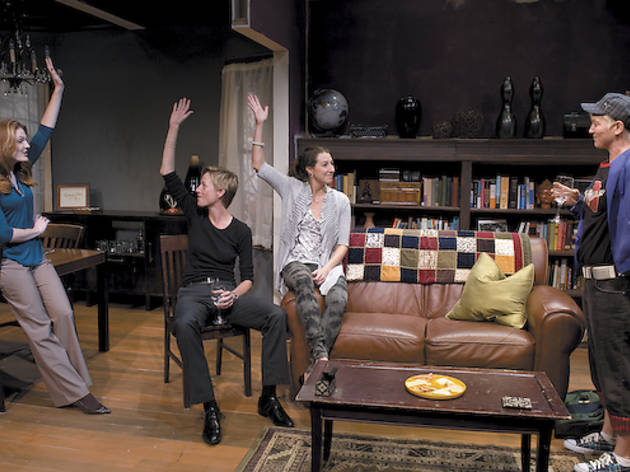 Sarah Gubbins's engaging new work deals in themes that are in some ways specific to lesbian couples like the two pairs onstage, but in others applicable to any relationship. When a lesbian couple such as Margot (Rebekah Ward-Hays) and Nate (Halena Kays) are ready for kids, do they choose to adopt or have a biological child? If the latter, how do they seek out a sperm donor? And what if, like Margot and Nate's best friends Leigh (Park Krausen) and Darcy (Kelli Simpkins), one half of the couple is champing at the bit to get pregnant while the other half isn't ready for the kid thing and isn't sure she ever will be?
Gubbins writes ace dialogue, and director Joanie Schultz and her terrific cast make the relationships among these four women feel utterly believable at their best moments and their ugliest. (Set designer Chelsea M. Warren's pitch-perfect Bucktown condo adds to the realism.)
Still, there's a sense that the play doesn't really begin until its second act, after the manipulative Darcy discovers that her partner Leigh has set things in motion for her. (Steve O'Connell gets an outstanding comic turn here as Nate and Leigh's straight college pal who served as Margot's sperm donor.) And though the superb Simpkins acts the hell out of the denouement in which Darcy reveals the reason for her resistance, it feels unsatisfying. But these are quibbles with an otherwise compelling conversation-stoker of a play.