1/3
Photograph: Johnny Knight
The Last Defender at the House Theatre of Chicago
2/3
Photograph: Johnny Knight
The Last Defender at the House Theatre of Chicago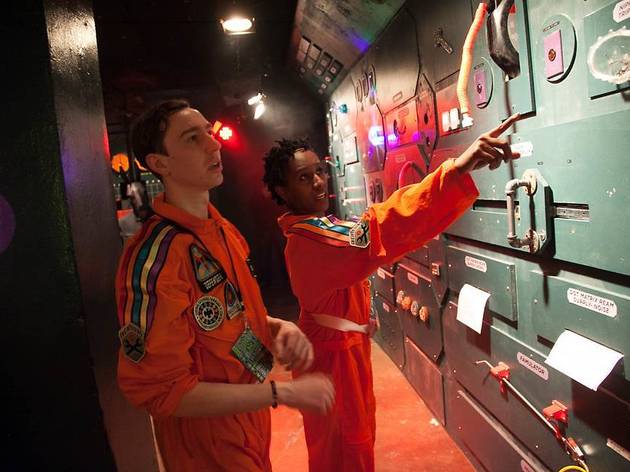 3/3
Photograph: Johnny Knight
The Last Defender at the House Theatre of Chicago
The House Theatre's Cold War room escape is an adrenaline-generating team-building exercise with strangers.
After you and your 15 fellow recruits in the Defender program have suited up and been given your code names, you're split into sub-teams. But the only competition in this wildly immersive experience is against the clock. All of you will have to work together the mutually assured destruction of the world outside this bunker in all-out nuclear war.
It's hard to know exactly what to call the House Theatre's latest, other than awesome. But what it really is is a high-design room-escape game. Working with Chicago puzzle designer Sandor Weisz and comics artist Chris Burnham, director Nathan Allen has crafted an incredibly smart and detailed Cold War-era environment that requires each of the teams to solve an initial set of puzzles at a retrofitted arcade-game console. From there, the proceedings get only more complex, and everyone has to work together (sometimes literally everyone at once) as you race to prevent a nuclear launch.
If anything, The Last Defender might be too smart. By the time I played, a few weeks into the run, one of the stagehands who give you silent guidance throughout play told us afterward that only one team had so far fully solved the puzzle; the 90-minute time limit allows about a dozen "performances" a week. (My team was not the one that saved the world.) Part of you wants to go back for another shot, but you also know it wouldn't quite be fair, or as fun, to return with any of the knowledge you gained the first time. Uniquely challenging and exhilarating, The Last Defender is exciting new territory for the House.
The House Theatre of Chicago at Chopin Theatre. Written and directed by Nathan Allen. Running time: Approximately 1hr 30mins; no intermission.
Rating Breakdown
5 star:

2

4 star:

0

3 star:

0

2 star:

0

1 star:

0
YOU SHOULD DO THIS. I'm not an all-caps human, so when I bust them out it's for good reason. This show has been extended multiple times, again for good reason. Last I looked at dates it's now live thru early August 2016, so get to it! You work in a team of 16 defenders. Each of you has a code name and an area that you specialize in to start. Your goal? Stop the world from blowing up during a classic Cold War feud by solving logic puzzles and challenges before the world ends. It's fun, interactive, and you bond with your team in a genuine way. My advice? Go with a few friends and let the rest of your team be a surprise. Problem solving with strangers gives you amazing energy and if you save the world in the process, well that's just a perk.