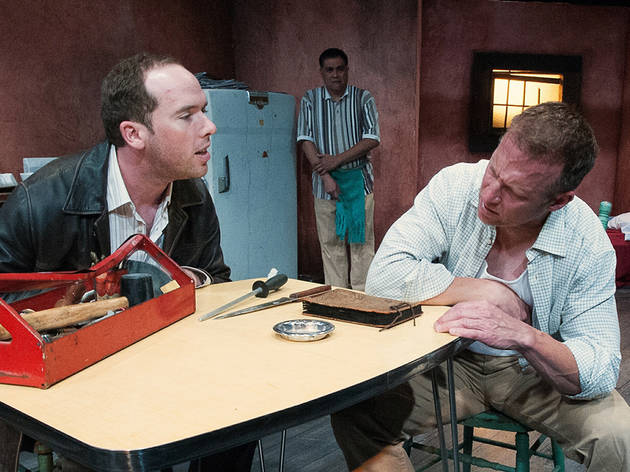 1/5
Photograph: Tim Knight
Tim Musachio and David Vogel in The Late Henry Moss at the Artistic Home
2/5
Photograph: Tim Knight
Frank Nall and Yadira Correa in The Late Henry Moss at the Artistic Home
3/5
Photograph: Tim Knight
Tim Musachio and Julian Hester in The Late Henry Moss at the Artistic Home
4/5
Photograph: Tim Knight
Yadira Correa and Julian Hester in The Late Henry Moss at the Artistic Home
5/5
Photograph: Tim Knight
Julian Hester and Frank Nall in The Late Henry Moss at the Artistic Home
The Artistic Home. By Sam Shepard. Directed by Kaiser Zaki Ahmed. With Tim Musachio, David Vogel, Frank Nall, Yadira Correa, Julian Hester. Running time: 2hrs; one intermission.
Theater review by Benno Nelson
Begrudging American playwright Sam Shepard for writing about fathers, brothers, alcoholism and abuse is like begrudging Rick Bayless for cooking Mexican. Sure, it might be interesting to see his take on Thai, but also: Those tortas are great. Shepard, whose earlier works include True West and Buried Child, didn't reinvent himself or the stage with his 2000 play The Late Henry Moss, but he took a solid swing in his comfort zone that the Artistic Home's Chicago premiere capitalizes on powerfully.

Brothers Earl (David Vogel) and Ray Moss (Tim Musachio) have lived for years on opposite coasts, but when their father dies, they reunite in the New Mexico desert shack he called home at the end of his life. Still raw from past betrayals, Ray can't accept his brother's version of how their father passed away. Part Rashomon, part Long Day's Journey into Night, the truth of Henry's death—as well as of the trauma that broke their family—reveals itself in harrowing detail through economical jumps in time and perspective.

With a simple set, a handsome but unobtrusive lighting and sound design and a relentless pace—even in silences—the burden of the production falls to the actors, who, under the direction of Kaiser Zaki Ahmed, handsomely rise to the challenge. For instance, Julian Hester's work as a cabbie helplessly ensconced in the action, and the only character too guileless to lie, neatly reflects what makes this production great: a wobbly balance of sadness, comedy and fruitless, ill-fitting aggression that irrepressibly compels.

As the driving force behind uncovering the truth, Musachio's Ray has clearly internalized his father's direct equivalence of cruelty and strength. His abuse of the weak is nauseating, but it comes a little too easily, a little too calmly, and fits him too well to lend him the full depth, perverse sympathy or even dark humor the production yearns to grant him.

At the center of the show is the titular Henry Moss, Earl and Ray's abusive, alcoholic father living on an army pension and a head full of Tiger Rose wine. Frank Nall's performance as this looming, ferocious, pitiable, detestable bastard is probably perfect. He's so scabrous and lived-in that his fresh haircut is a kind of running visual joke throughout the play, and when he demands of one victim of his company, "Do I look like a desperate man to you?" even he can't miss the irony.

As Henry's girlfriend, Conchalla, Yadira Correa has an impossible job that she invests with impressive conviction, ricocheting between menace and martyr. A kind of manic pixie nightmare, Conchalla met Henry in prison whereon she immediately pronounced him dead. This accusation haunts Henry, who spends his final days desperate to prove he's alive. There's a drunk logic to the whole mess: a kind of escalation of boasts, misunderstandings and accusations that ultimately produces the piece's most haunting questions about living and dying.

The shamanic positioning of the only woman onstage is the most unpalatable and regrettable aspect of Shepard's script, and this production slides too close to indulging in her supernatural language as a kind of literal magic. What could just as easily be the hopeless myth-making of a career drunk gets instead the weight of reality, muddying the action rather than heightening it.