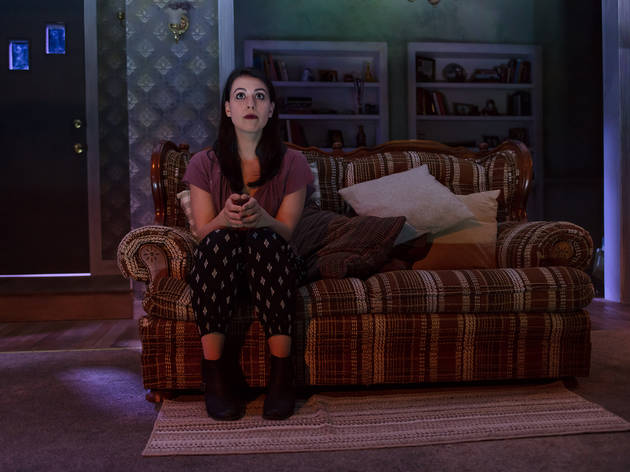 1/9
Photograph: courtesy Jackalope Theatre Company
The Light Fantastic
2/9
Photograph: courtesy Jackalope Theatre Company
The Light Fantastic
3/9
Photograph: courtesy Jackalope Theatre Company
The Light Fantastic
4/9
Photograph: courtesy Jackalope Theatre Company
The Light Fantastic
5/9
Photograph: courtesy Jackalope Theatre Company
The Light Fantastic
6/9
Photograph: courtesy Jackalope Theatre Company
The Light Fantastic
7/9
Photograph: courtesy Jackalope Theatre Company
The Light Fantastic
8/9
Photograph: courtesy Jackalope Theatre Company
The Light Fantastic
9/9
Photograph: courtesy Jackalope Theatre Company
The Light Fantastic
Time Out says
Ike Holter's new play is smart, saucy, touching—and will scare you silly.
Let me be clear here: Ike Holter's The Light Fantastic will most definitely frighten you. Set "deep in the dark heart of motherfucking Indiana" the show is a horror story with a LeBron-like diversity of skill sets. Directed by Gus Menary, The Light Fantastic knows how to scare you out of nowhere and how to ratchet up the tension till you burst. It understands creeping dread as well as it gets how to make you jump out of your seat. It is a scary, scary play.
It's also a good one. Or rather, it's three-quarters of a great play and one-fourth of a promising one that nonetheless falls a little flat. That not-so-great portion happens to be the play's final 20 minutes, which take the careful world-building and character development of the previous 80 minutes and just sort of smash it all together. It isn't a sheer drop off the cliff like, say, The Last Exorcism; it's just that the climax doesn't live up to rest of the thing. (The denouement is actually quite affecting.)
Still, despite its flaws, The Light Fantastic is a whopping good time: scary, hot-tempered, saucy, and smart. Its cinematic opening (complete with opening credits set to RJ-D2's The Horror) drops us smack into the aforementioned dark heart of Indiana with 30-year-old Grace (the great Paloma Nozicka), who's crashed and burned all the way back to her hometown.
And while a whole host of spooky goings-on has Harriet (Brianna Buckley)—the local cop and Grace's former schoolmate—on edge, the first evil that Grace encounters is far more commonplace. While crashing at her sort-of boyfriend's house, she's shot during a home invasion. Dying from a gut wound, she calls out for someone to help. And something answers.
One month later, at a gathering of friends and family that includes said sort-of boyfriend Eddie (Diego Colon), her volatile mother Fiona (Janice O'Neill), and her mother's weird new friend Adam (Tommy Malouf), Grace's homecoming gets interrupted by a mysterious woman (Elena Maria Cohen) bearing a disturbing message: The force that saved Grace's life was the same force that made this woman's boyfriend attack Grace. This supernatural creature does not do things for free. It expects something in return.
From there, it's a fairly standard, though utterly enjoyable series of ghostly incidents and escalations as Grace succumbs to the creature's powers. The special effects are superb, with designers Sotirios Livaditis ​(set), Christine Pascual (costumes), Lacie Hexom​ (props), Steve Labedz and Ben Zeman ​(sound and projections), and Slick Jorgenson ​(lighting designer) working together to create some truly terrifying stagecraft.
But while the story is pure genre, it's not of the cheap sort. (Unlike the Malört that far too many of the characters enjoy.) You see, Grace has a history of being a pretty crappy person, daughter, and friend. She sees her life being saved as a chance to turn over a new leaf. Unfortunately, the creature wants exactly the opposite. It wants her because she's a terrible person. Its plans, its very powers here on earth, depend on it.
Eventually—in a move that at first seems like it might suck all the terror out of the thing, but instead serves to deepen it—the creature reveals itself in the form of the man who shot Grace (Andrew Burden Swanson). He asks her to call him Rufus. While bristling at any indication that he is the Satan, Rufus is nonetheless a truly hellish kind of demon. He tells her all about how he prays on the weak and the indigent, how he turns their desperation into cruelty and requires that they pay it forward throughout the world. He's also hilarious, with Swanson capitalizing on the character's dry, nihilistic wit. It helps, of course, that Holter has written Swanson a literal hell of a devil.
Holter's customary blend of speed, bluster and humor is present throughout his script, with one particular moment—a late-in-the-game, hilarious and defiant soliloquy from Harriet—serving as something like his watermark on the script. A more "proper" play would have cut it. But Holter understands that being proper is for suckers.
Jackalope Theatre Company at Broadway Armory Park. By Ike Holter. Directed by Gus Menary. With Paloma Nozicka, Brianna Buckley, Elena Maria Cohen, Diego Colón, Janice O'Neill​, Tommy Malouf​, Andrew Burden Swanson. Running time: 1hr 40mins; no intermission.
Details
Users say