The Lion in Winter at Idle Muse Theatre Company | Theater review
Idle Muse revives James Goldman's enjoyably quippy take on the Plantagenets.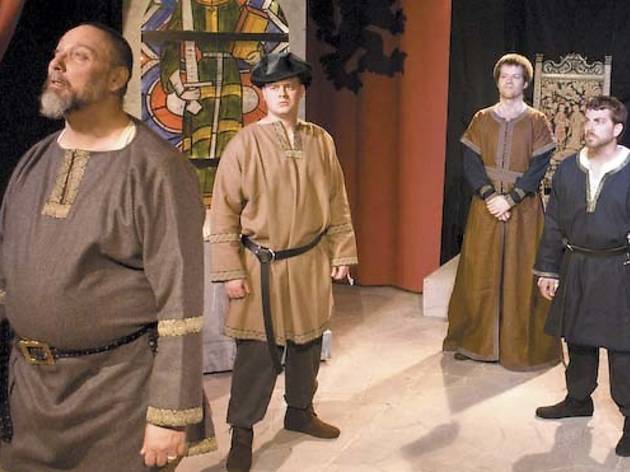 James Goldman's community-theater chestnut, set at a French castle around Christmas in 1183, depicts England's royals as a squabbling, wisecrack-prone dysfunctional family, each of whose members is constantly jockeying for the crown. Aging King Henry II would like to secure his legacy, but his queen, Eleanor of Aquitaine—imprisoned for supporting an earlier revolt against him—wants to destroy him for the sport of it. Each of their three sons, meanwhile, is willing to scheme, double-cross and, if necessary, kill his way to the throne. "Well," as Eleanor says, "what family doesn't have its ups and downs?"
Most of the play's scenes unfold in identical fashion: One or more characters plot something, other characters find out, vicious bickering ensues. Soon, the law of diminishing returns goes into effect and the arguments start to feel repetitive, the writing relentlessly quippy. Evan Jackson's staging doesn't entirely surmount these obstacles, but at least he keeps things enjoyably light and snappy. Dennis Mae's set design, incorporating sliding tapestries and stained-glass windows, imparts a sense of movement and provides ample hiding places—and makes the side project's postage stamp–size space feel much bigger than it is.
As the feuding Plantagenets, the cast conveys the appropriate zest for blood sport—except, perhaps, Elizabeth MacDougald, whose Eleanor is wooden until after intermission, when the actor seems to think she's playing Medea. She has the play's best part, but this time King Henry steals the show, thanks to the savage glee and shameless lechery Dave Skvarla brings to the role.