1/11
Photograph: Joel Maisonet
The Madres
2/11
Photograph: Joel Maisonet
The Madres
3/11
Photograph: Joel Maisonet
The Madres
4/11
Photograph: Joel Maisonet
The Madres
5/11
Photograph: Joel Maisonet
The Madres
6/11
Photograph: Joel Maisonet
The Madres
7/11
Photograph: Joel Maisonet
The Madres
8/11
Photograph: Joel Maisonet
The Madres
9/11
Photograph: Joel Maisonet
The Madres
10/11
Photograph: Joel Maisonet
The Madres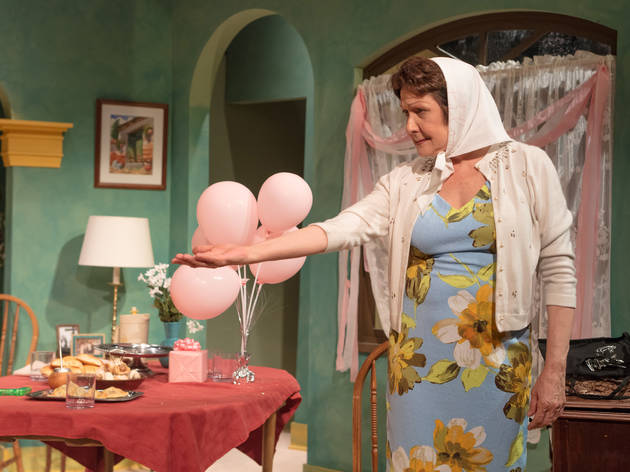 11/11
Photograph: Joel Maisonet
The Madres
'Jane the Virgin' star Ivonne Coll shines in this story of mothers against fascism.
Until the day that history delivers us an oppressive dictatorship perpetrated entirely by women, studies in fascism will innately double as studies in misogyny. In her new play The Madres, playwright Stephanie Alison Walker makes this link explicit.
The play is set in Argentina in the late 1970s during the Guerra Sucia, or "Dirty War," in which a military junta seized power and proceeded to "disappear" tens of thousands of leftists, human rights activists, and others—all the while denying that anyone had disappeared at all.
One such disappeared person is the young, pregnant Belen (Ilse Zacharias), whose mother, Carolina (Lorena Diaz), has joined a resistance group called Los Madres. Clad in bright white head scarves, these women march and protest, demanding answers from the government and justice for their children.
Jane the Virgin actress Ivonne Coll stars as Belen's grandmother, Josefina, a woman who prides herself on being a good, conservative Catholic—especially since being anything else could get you disappeared yourself. Josefina doesn't like Carolina's involvement with the Los Madres, even though she too worries over the fate of Belen.
In order to keep up the ruse that they are not being detained, the junta will sometimes let people out for big family gatherings like weddings, and so Josefina and Carolina hatch a plot. They will throw a baby shower for Belen in hopes that she'll be allowed to attend.
And so she does. And it's a shower for the ages, attended by the three women, a collaborationist priest (Ramón Camín) and Belen's childhood neighbor Diego (Felipe Carrasco), now a dangerously skeevy soldier. (The priest is skeevy too, just not dangerously so.) Bruises and trauma are concealed, foot rubs are weaponized, and anodyne party games threaten to erupt into violence.
Under the direction of Ricardo Gutiérrez, this production is a bit uneven, with a first act that's far too casually paced but a second act (mostly the baby shower) that tightens the screws most effectively. Coll and Diaz are both wonders, with Diaz especially taking an ending that in lesser hands could be mere histrionics and imbuing it with a burning maternal savagery that scorches the stage around her.
Walker has certainly found a potent story to tell, one so rich that it doesn't need any sort of contemporary parallels; that said parallels exist simply adds layers to a strong foundation. Yet the play doesn't feel quite cooked through; Carolina aside, most of the characters' inner lives are too undefined. Sure, many of them are conflicted, but the battle lines aren't distinct enough.
Then again, it's fitting that Carolina is the one person onstage who shines the brightest, whose mission is clear. She's the only one who's taken to the streets, donned the white scarf, and declared her resistance.
Teatro Vista at Victory Gardens. By Stephanie Alison Walker. Directed by Ricardo Gutiérrez. With Ivonne Coll, Lorena Diaz, Ramón Camín, Felipe Carrasco, Ilse Zacharias. Running time: 2hrs; one intermission.