The Mountaintop at Court Theatre: Theater review
Though Court's production scales it with skill, Katori Hall's flight of fancy about the night before Martin Luther King's assassination doesn't reach great heights.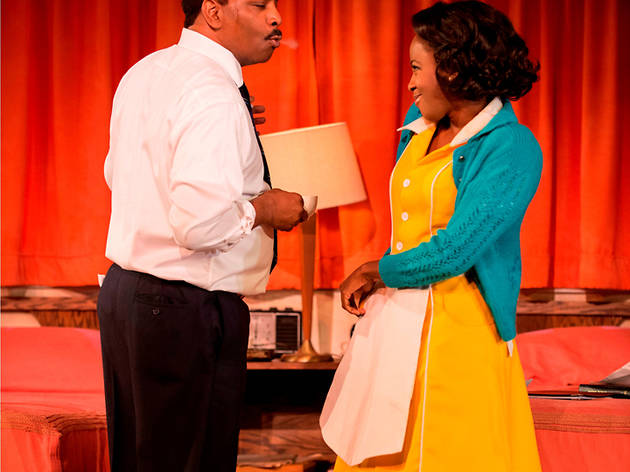 1/3
Photograph: Michael Brosilow
David Alan Anderson and Lisa Beasley in The Mountaintop at Court Theatre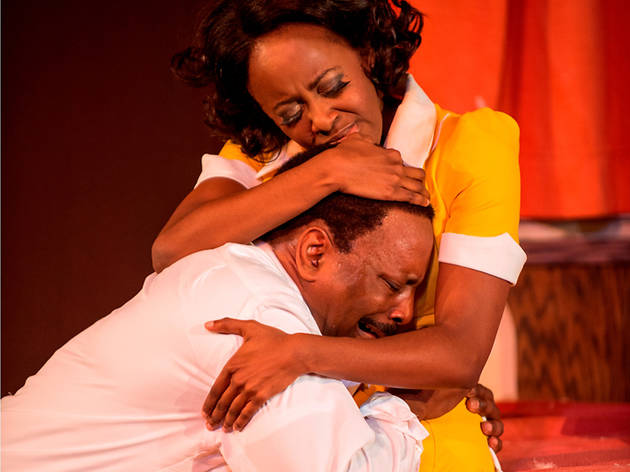 2/3
Photograph: Michael Brosilow
David Alan Anderson and Lisa Beasley in The Mountaintop at Court Theatre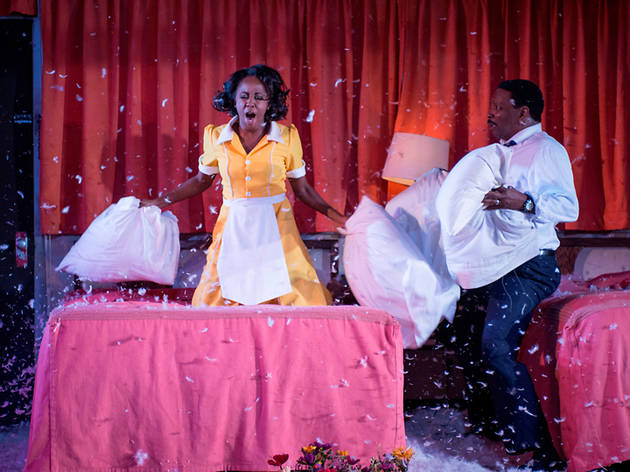 3/3
Photograph: Michael Brosilow
David Alan Anderson and Lisa Beasley in The Mountaintop at Court Theatre
For the last couple of decades, Memphis's former Lorraine Motel and surrounding buildings have been home to the National Civil Rights Museum. Inside the complex—which also includes the boarding house from which James Earl Ray was alleged to have shot Dr. Martin Luther King Jr.—visitors to the museum, of which I was one some years back, are presented with a history of and artifacts from the civil rights struggle in the United States.
But the street-facing motel facade, including the balcony where King was shot dead, remains as the face of the museum, with the self-guided tour culminating at the time of my visit in a view into Room 306, preserved as it was when King spent his last night on Earth in it in 1968.
Katori Hall's 2009 play offers an experience that's similar but decidedly less somber. It's set in Room 306, on King's last night, as the weary, wary leader returns from delivering the "I've been to the mountaintop" speech at the Memphis Mason Temple. Hall imagines the events that might have transpired in King's mind that night by providing him a provocative scene partner—a friendly but feisty hotel maid named Camae who arrives with his room-service coffee and stays to spar with the preacher—and a few metaphysical twists. To reveal too much would be unfair; suffice it to say that Camae's dispatch orders come from higher up than the hotel's front desk.
Hall was a largely unknown young African-American playwright when The Mountaintop had its premiere in a small London production, going on to win the 2010 Olivier Award for best new play. It then had its American debut in a much-hyped, middlingly-received Broadway production saddled with the celebrity casting of Samuel L. Jackson and Angela Bassett.
While I didn't see that version, I have to imagine the famous faces did it no favors. David Alan Anderson and Lisa Beasley, on the other hand, mostly fare well in Ron OJ Parson's production for Court Theatre. Anderson convincingly conveys the King character's frustrations, fears and paranoia, presenting Hall's conjectured private side of the public persona as largely plausible, and Beasley is winning and quite funny as Camae; most importantly, she sells us on King's keeping her in the room for company even before her full reason for being there is revealed.
Parson's staging engages all of the playwright's twists head-on, with intelligence and skill; Scott Davis's scenic design provides a handsomely detailed approximation of the historic hotel room, and Davis and projection designer Mike Tutaj provide an impressive visual transformation at The Mountaintop's apex.
And yet, the climb to that pinnacle is made with some odd and unearned writerly leaps. The trouble is that Hall wants to humanize the martyr by presenting him warts-and-all: nipping liquor and chain-smoking Pall Malls; having sinful, womanizing thoughts; believing his own hype; selfishly fearing death; possessing stinky feet.
But given everything we've learned about King's flaws in the decades since his death, none of these really proves revealing. In her admirably irreverent desire to bring King down from the pedestal, Hall goes so far as to diminish the man's great intellect by veering into silly sitcom territory. And the play's culmination, in which King's wish to glimpse the future is answered with Tutaj's skillful video collage accompanying Camae rattling off cultural touchstones of the last 45 years in a metered singsong that sounds like an update to "We Didn't Start the Fire," feels more reductive than revelatory. Hall's scenario is amiable enough, but when spending 90 fraught minutes in a tangible space with one of the most consequential figures in American history, amiable is a low peak.