The Odd Couple at Northlight Theatre | Theater review
Marc Grapey and Tim Kazurinsky find quick kinship in Neil Simon's well-worn comedy.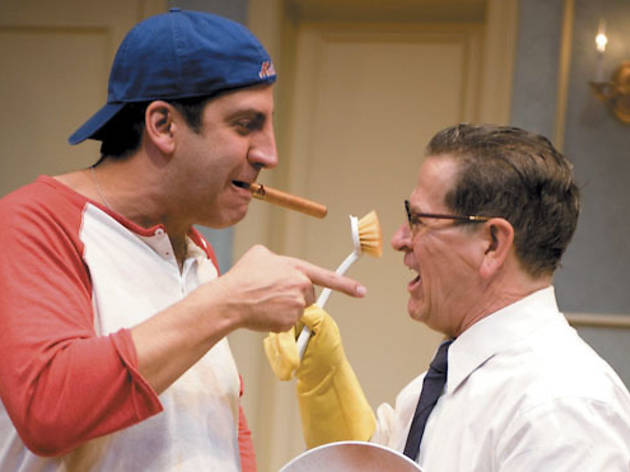 Less than two weeks before opening night, Northlight Theatre faced a last-minute Neil Simon–esque twist of its own: Originally set to reprise his role as Oscar opposite Tim Kazurinsky's Felix, prominently billed television actor George Wendt had to bow out of the production for medical reasons. (The two first coupled up last year in a Kansas City revival.) Reliable straight man Marc Grapey, whose recent credits include Goodman Theatre's Race and Victory Gardens' Equivocation, fills Wendt's shoes with a furrowed brow and a modern sense of c'est la vie cynicism in artistic director BJ Jones's production.
Simon's perennial 1965 situational comedy, a lovably light string of well-crafted one-liners about two opposites navigating unexpected bachelorhood, shows its age for better and worse (and not just for its charming assumption that a sports writer could afford an eight-room apartment in New York City). Felix and Oscar reside in a universe of offstage pan crashes, onstage sight gags and limited character intentions. Grapey and Kazurinsky find a nice balance, neither thumbing their noses at the broad comedy nor limiting the subtext to it. Kazurinsky's Felix is more stubborn than prude, deeply insecure and lost without the comfort of a woman who accepts his idiosyncrasies. Given a severely abbreviated rehearsal schedule, Grapey creates enough of a sense of back-story friendship to clarify why his compassion cuts through the frustration. The real scene-stealers, though, are giggly love interests Katherine Keberlein and Molly Glynn, more-than-welcome visitors at the poker table.