The Original Grease at American Theater Company | Theater review
Restored to something like its original, Chicago-set self, Grease is as lively as a Riverview roller coaster.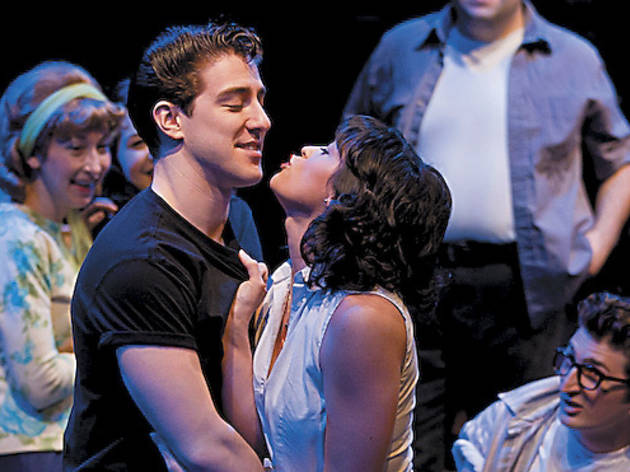 1/4
Photograph: Brett Beiner
Adrian Aguilar and Jessica Diaz in The Original Grease at American Theater Company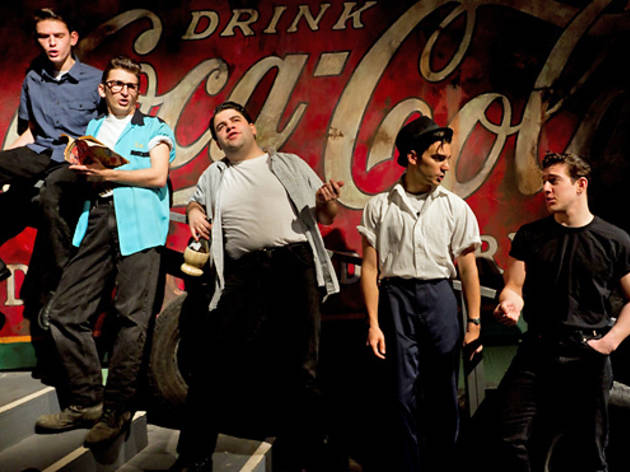 2/4
Photograph: Brett Beiner
Bubba Weiler, Tyler Ravelson, Rob Colletti, Patrick De Nicola and Adrian Aguilar as the Burger Palace Boys in The Original Grease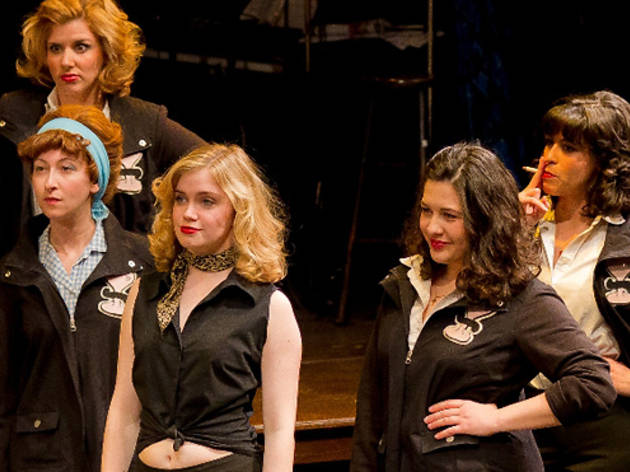 3/4
Photograph: Brett Beiner
Carol Rose, Jessie Fisher, Kelly Davis Wilson, Sadieh Rifai and Jessica Diaz as the Pink Ladies in The Original Grease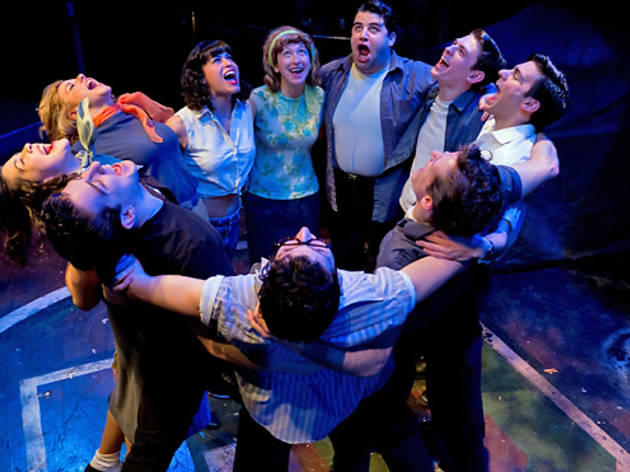 4/4
Photograph: Brett Beiner
"We Go Together" in The Original Grease
Both intriguing historical document and rollicking entertainment, this restored version of Grease is happily unslick. Working with original cowriter Jacobs, Paparelli and company have reinstated the rough edges that, over decades of commercial-minded bowdlerization, have been sanded down and Sandra Dee'd. The result is something much closer to the cheeky diversion that Jacobs and the late Casey debuted 40 years ago at the defunct Kingston Mines Theater: a bawdy and boisterous portrait of working-class teen greasers on Chicago's Northwest Side.
For those most familiar with Grease via the 1978 film or the most recent high-school production, the restorations to the book may feel largely cosmetic: a smattering of F-bombs, sexual innuendo and Chicago place-names, plus a pointed reminder that newcomer Sandy Dumbrowski is a transplant from Joliet, not Australia.
The greater revelation is the score, filled with gems that predate the modern version's better-known tunes and some that were cut even before the Chicago opening. In some spots you can hear how the later edition improved upon the original; "Summer Nights," for instance, is a great deal more tuneful an opening number than its predecessor, "Foster Beach." But the overall sound here is thrilling, with brand-new orchestrations and vocal arrangements by Malcolm Ruhl that trade all traces of disco for more authentic flavors of rockabilly and doo-wop.
A talented, exuberant young ensemble, led by Adrian Aguilar's Danny and Kelly Davis Wilson's Sandy, portrays Rydell's greasers and Pink Ladies; their vocals aren't always Brylcreem smooth (part of the production's overall raw, homemade appeal), but they acquit themselves well in a number of a cappella harmonies and in Jim Corti's footloose choreography. The perfunctory framing device of a Rydell class reunion seems more extraneous than ever, though, a speed bump in Greased Lightning's path.